page 87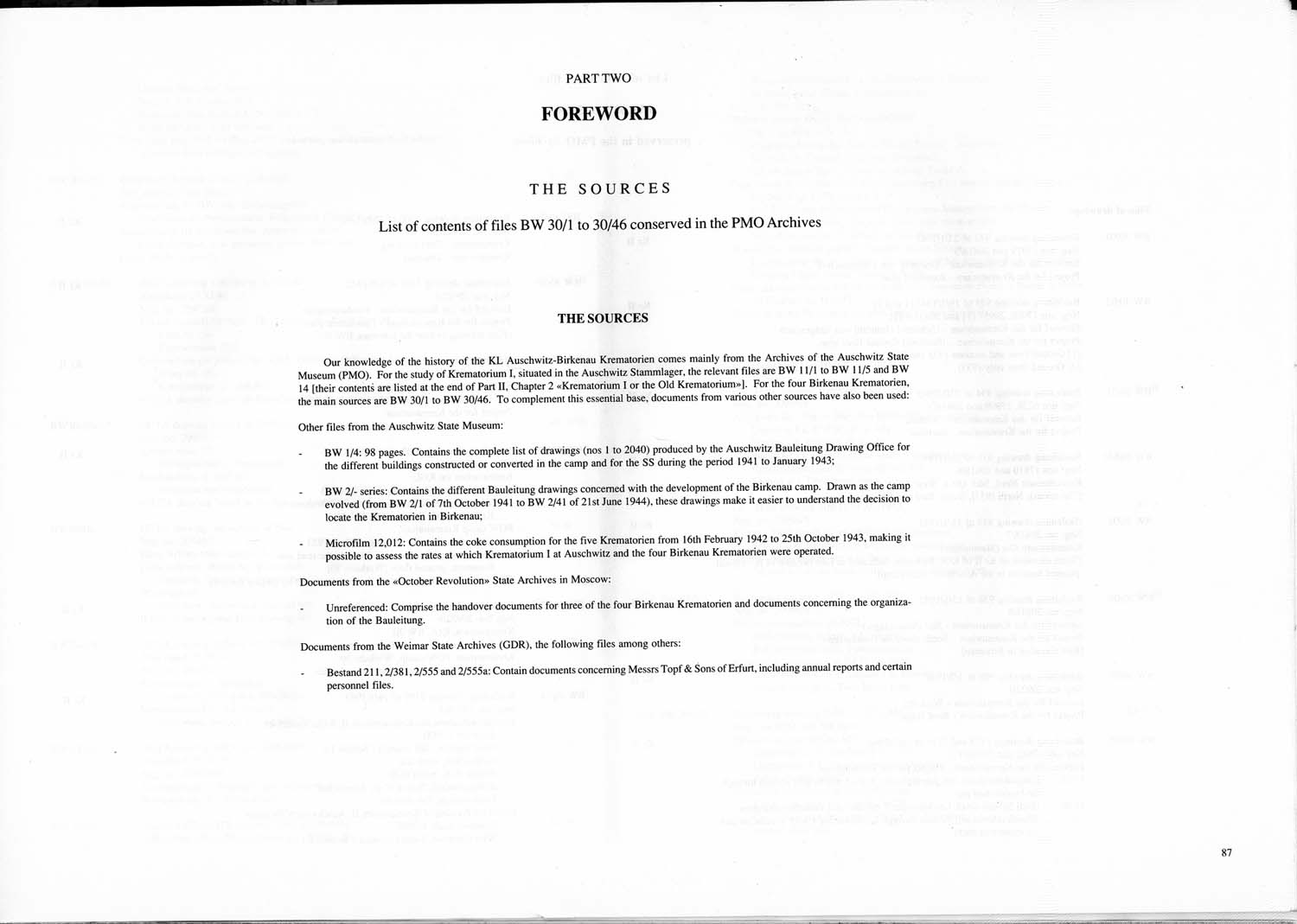 PART TWO
Foreword
THE SOURCES
List of contents of files BW 30/1 to 30/46 conserved in the PMO Archives
THE SOURCES
Our knowledge of the history of the KL Auschwitz-Birkenau Krematorien comes mainly from the Archives of the Auschwitz State Museum (PMO). For the study of Krematorium I, situated in the Auschwitz Stammlager, the relevant files are BW 11/1 to BW 11/5 and BW 14 (their contents are listed at the end of Part II, Chapter 2 "Krematorium I or the Old Krematorium"]. For the four Birkenau Krematorien, the main sources are BW 30/1 to BW 30/46. To complement this essential base, documents from various other sources have also been used:

Other files from the Auschwitz State Museum:
BW 1/4: 98 pages. Contains the complete list of drawings (nos 1 to 2040) produced by the Auschwitz Bauleitung Drawing Office for the different buildings constructed or converted in the camp and for the SS during the period 1941 to January 1943;
BW 2/- series: Contains the different Bauleitung drawings concerned with the development of the Birkenau camp. Drawn as the camp evolved (from BW 2/1 of 7th October 1941 to BW 2/41 of 21st June 1944), these drawings make it easier to understand the decision to locate the Krematorien in Birkenau;
Microfilm 12,012: Contains the coke consumption for the five Krematorien from 16th February 1942 to 25th October 1943, making it possible to assess the rates at which Krematorium I at Auschwitz and the four Birkenau Krematorien were operated.
Documents from the "October Revolution" State Archives in Moscow:
Unreferenced: Comprise the handover documents for three of the four Birkenau Krematorien and documents concerning the organization of the Bauleitung.
Documents from the Weimar State Archives (GDR). the following files among others:
Bestand 211, 2/381, 2/555 and 2/555a: Contain documents concerning Messrs Topf & Sons of Erfurt, including annual reports and certain personnel files.