page 339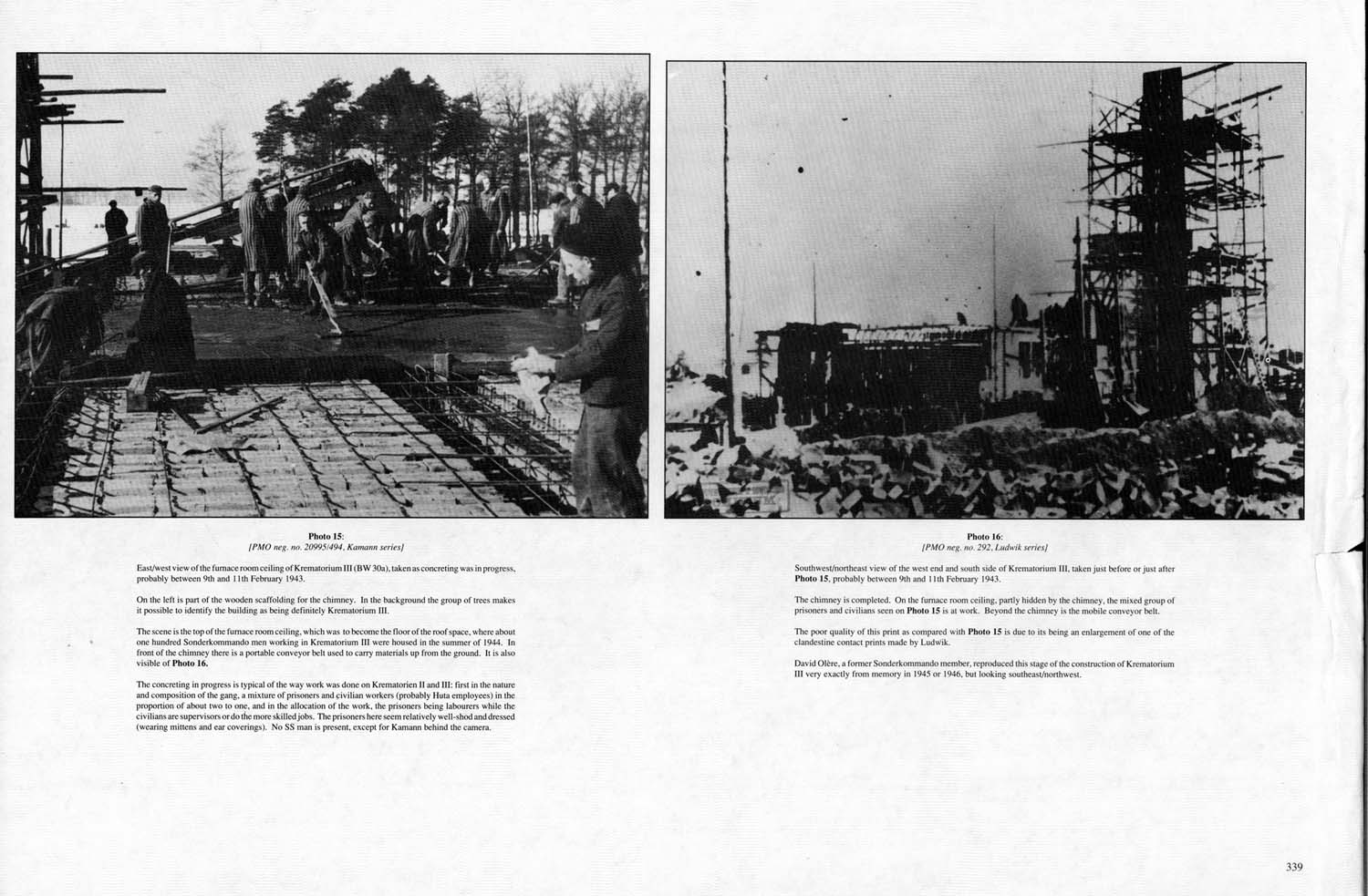 Photo 15:

---

Photo 15:
[PMO neg. no. 20995/494, Kamann series]
East/west view of the furnace room ceiling of Krematorium III (BW 30a), taken as concreting was in progress, probably between 9th and 11th February 1943.

On the left is part of the wooden scaffolding for the chimney. In the background the group of trees makes it possible to identify the building as being definitely Krematorium III.

The scene is the top of the furnace room ceiling, which was to become the floor of the roof space, where about one hundred Sonderkommando men working in Krematorium III were housed in the summer of 1944. In front of the chimney there is a portable conveyor belt used to carry materials up from the ground. It is also visible of Photo 16.

The concreting in progress is typical of the way work was done on Krematorien II and III: first in the nature and composition of the gang, a mixture of prisoners and civilian workers (probably Huta employees) in the proportion of about two to one, and in the allocation of the work, the prisoners being laborers while the civilians are supervised to do the more skilled jobs. The prisoners here seem relatively well-shod and dressed (wearing mittens and ear coverings). No SS man is present, except for Kamann behind the camera.

---

Photo 16

---

Photo 16
[PMO neg. no. 292, Ludwik series]
Southwest/northeast view of the west end and south side of Krematorium III, taken Before or just after Photo 15, probably between 9th and 11th February 1943.

The chimney is completed. On the furnace room ceiling, partly hidden by the chimney, The mixed group of prisoners and civilians seen on Photo 15 is at work. Beyond the Chimney is the mobile conveyor belt.

The poor quality of this print as compared with Photo 15 is due to its being an enlargement of one of the clandestine contact prints made by Ludwick.

David Olère, a former Sonderkommando member, reproduced this stage of the construction of Krematorium III very exactly from memory in 1945 or 1946, but looking southeast/northwest.