page 140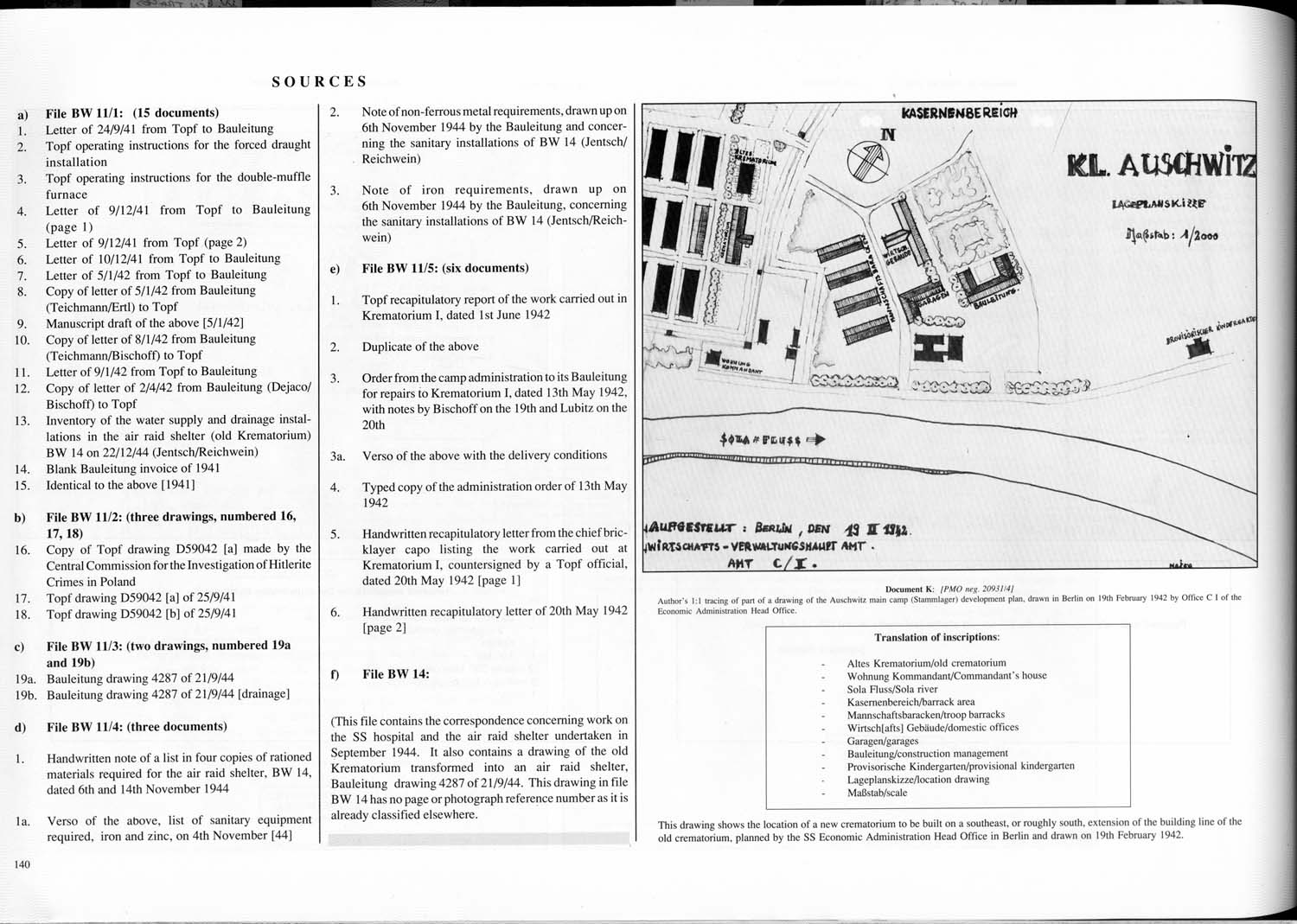 | | | |
| --- | --- | --- |
| a) | File BW 11/1: (15 documents) | |
| 1. | Letter of 24/9/41 from Topf to Bauleitung | |
| 2. | Topf operating instructions for the forced draught installation | |
| 3. | Topf operating instructions for the double muffle furnace | |
| 4. | Letter of 9/12/41 from Topf to Bauleitung (page 1) | |
| 5. | Letter of 9/12/41 from Topf (page 2) | |
| 6. | Letter of 10/12/41 from Topf to Bauleitung | |
| 7. | Letter of 5/1/42 from Topf to Bauleitung | |
| 8. | Copy of letter of 5/1/42 from Bauleitung (Teichmann/Ertl) to Topf | |
| 9. | Manuscript draft of the above [5/1/42] | |
| 10. | Copy of letter of 8/1/42 from Bauleitung (Teichmann/Bischoff) to Topf | |
| 11. | Letter of 9/1/42 from Topf to Bauleitung | |
| 12. | Copy of letter of 2/4/42 from Bauleitung (Dejaco/Bischoff) to Topf | |
| 13. | Inventory of the water supply and drainage installations in the air raid shelter (old Krematorium) BW 14 on 22/12/44 (Jentsch/Reichwein) | |
| 14. | Blank Bauleitung invoice of 1941 | |
| 15. | Identical to the above [1941] | |
| b) | File BW 11/2: (three drawings, numbered 16, 17,18) | |
| 16. | Copy of Topf drawing D59042 [a] made by the Central Commission for the Investigation of Hitlerite Crimes in Poland | |
| 17. | Topf drawing D59042 [a] of 25/9/41 | |
| 18. | Topf drawing D59042 [b] of 25/9/41 | |
| c) | File BW 11/3: (two drawings, numbered 19a and 19b) | |
| l9a. | Bauleitung drawing 4287 of 21/9/44 | |
| 19b. | Bauleitung drawing 4287 of 21/9/44 [drainage] | |
| d) | File BW 11/4: (three documents) | |
| 1. | Handwritten note of a list in four copies of rationed materials required for the air raid shelter, BW 14, dated 6th and 14th November 1944 | |
| 1a. | Verso of the above, list of sanitary equipment required, iron and zinc, on 4th November [44] | |
| 2. | Note of non ferrous metal requirements, drawn upon on 6th November 1944 by the Bauleitung and concerning the sanitary installations of BW 14 (Jentsch/Reichwein) | |
| 3. | Note of iron requirements, drawn up on Bauleitung 6th November 1944 by the Bauleitung, concerning the sanitary installations of BW 14 (Jentsch/Reichwein) | |
| e) | File BW 11/5: (six documents) | |
| 1. | Topf recapitulatory report of the work carried out in Krematorium I, dated 1st June 1942 | |
| 2. | Duplicate of the above | |
| 3. | Order from the camp administration to its Bauleitung for repairs to Krematorium I, dated 13th May 1942, with notes by Bischoff on the l9th and Lubitz on the 20th | |
| 3a. | Verso of the above with the delivery conditions | |
| 4. | Typed copy of the administration order of 13th May 1942 | |
| 5. | Handwritten recapitutatory letter from the chief bricklayer capo listing the work carried out at Krematorium I, countersigned by a Topf official, dated 20th May 1942 [page 1] | |
| 6. | Handwritten recapitulatory letter of 20th May 1942 [page 2] | |
| f) | File BW 14: | |
| | (This file contains the correspondence concerning work on the SS hospital and the air raid shelter undertaken in September 1944. It also contains a drawing of the old Krematorium transformed into an air raid shelter, Bauleitung drawing 4287 of 21/9/44. This drawing in file BW 14 has no page or photograph reference number as it is already classified elsewhere.) | |
---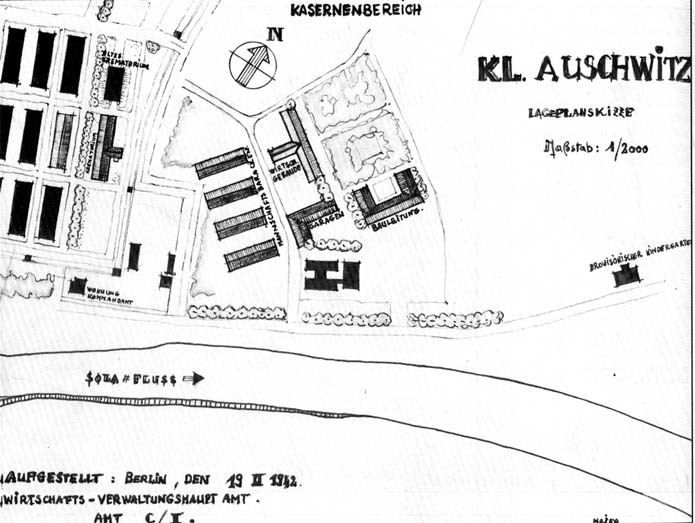 ---
Document K:
[PMO neg. 20931/4]
Author's 1:1 tracing of part of a drawing of the Auschwitz main camp (Stammlager) development plan, drawn in Berlin on 19th February 1942 by Office C I of the Economic Administration Head Office.
Translation of inscriptions:
·
Altes Krematorium / old crematorium
·
Wohnung Kommandant/ Commandant's house
·
Sola Fluss / Sola river
·
Kasernenbereich / troop barracks
·
Wirtsch[afts] Gebäude / domestic offices
·
Garagen / garages
·
Bauleitung / construction management
·
Provisorische Kindergarten / provisional kindergarten
·
Lageplanskizze / location drawing
·
Maßstab/ scale
This drawing shows the location of a new crematorium to be built on a southeast, or roughly south, extension of the building line of the old crematorium, planned by the SS Economic Administration Head Office in Berlin and drawn on 19th February 1942.