page 128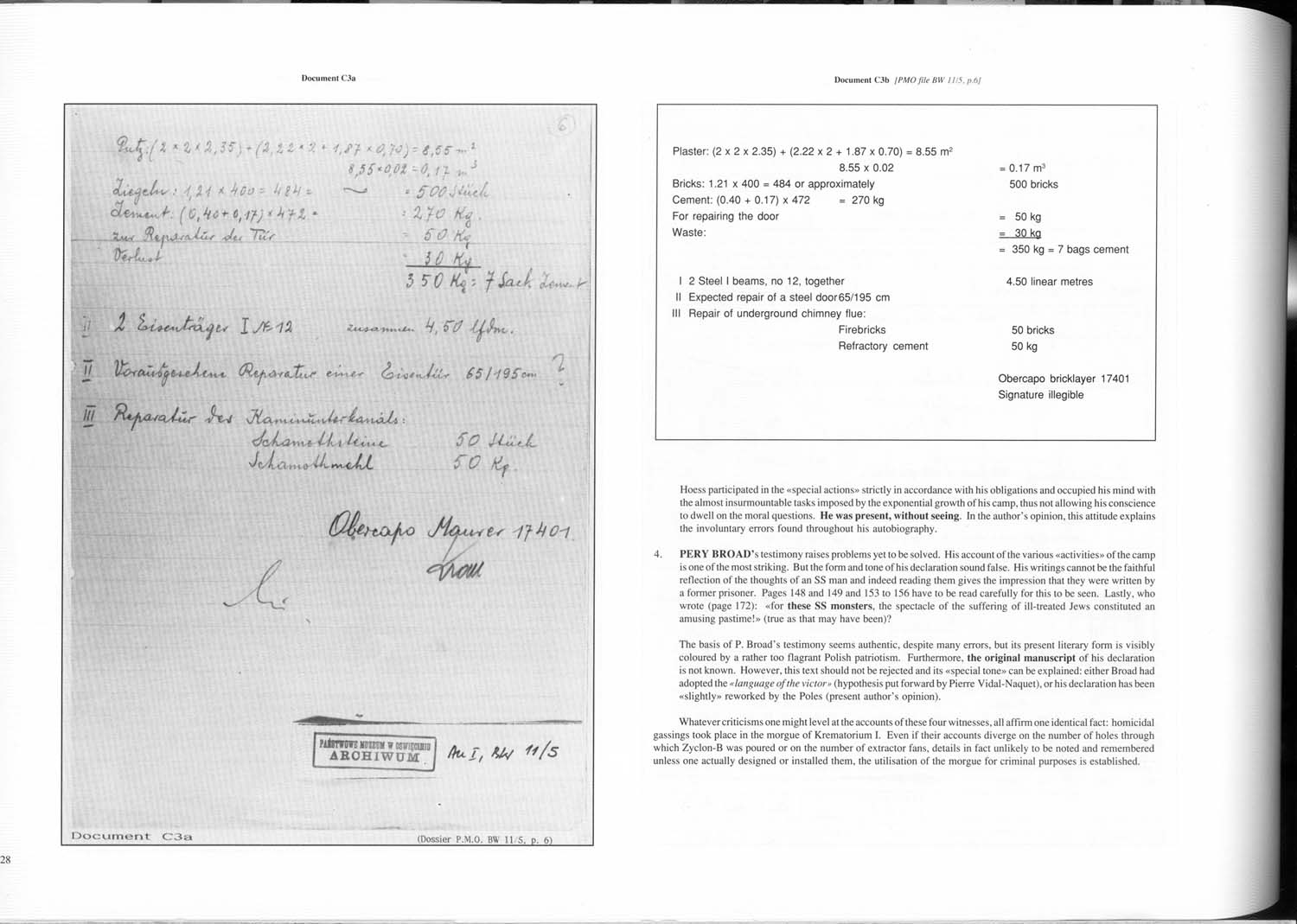 Document C3a
Document C3b
[PMO file BW 11/5, p.6]
Hoess participated in the "special actions" strictly in accordance with his obligations and occupied his mind with the almost insurmountable tasks imposed by the exponential growth of his camp, thus not allowing his conscience to dwell on the moral question. He was present, without seeing. In the author's opinion, this attitude explains the involuntary errors found throughout his autobiography.
4.
PERY BROAD's testimony raises problems yet to be solved. His account of the various "activities" of the camp is one of the most striking. But the form and tone of his declaration sound false. His writings cannot be the faithful reflection of the thoughts of an SS man and indeed reading them gives the impression that they were written by a former prisoner. Pages 148 and 149 and 153 to 156 have to be read carefully for this to be seen. Lastly, who wrote (page 172): "for these SS monsters, the spectacle of the suffering of ill treated Jews constituted an amusing pastime!" (true as that may have been)?

The basis of P. Broad's testimony seems authentic, despite many errors, but its present literary form is visibly coloured by a rather too flagrant Polish patriotism. Furthermore, the original manuscript of his declaration is not known, However, this text should not be rejected and its "special tone" can be explained: either Broad had adopted the "language of the victor" (hypothesis put forward by Pierre Vidat Naquet), or his declaration has been "slightly" reworked by the Poles (present author's opinion.
Whatever criticisms one might level at the might level at the accounts of these four witnesses, all affirm one identical fact: homicidal gassings took place in the morgue of Krematorium I. Even if their accounts diverge on the number of holes through which Zyklon-B was poured or on the number of extractor fans, details in fact unlikely to be noted and remembered unless one actually designed or installed them, the utilisation of the morgue for criminal purposes is established.