page 127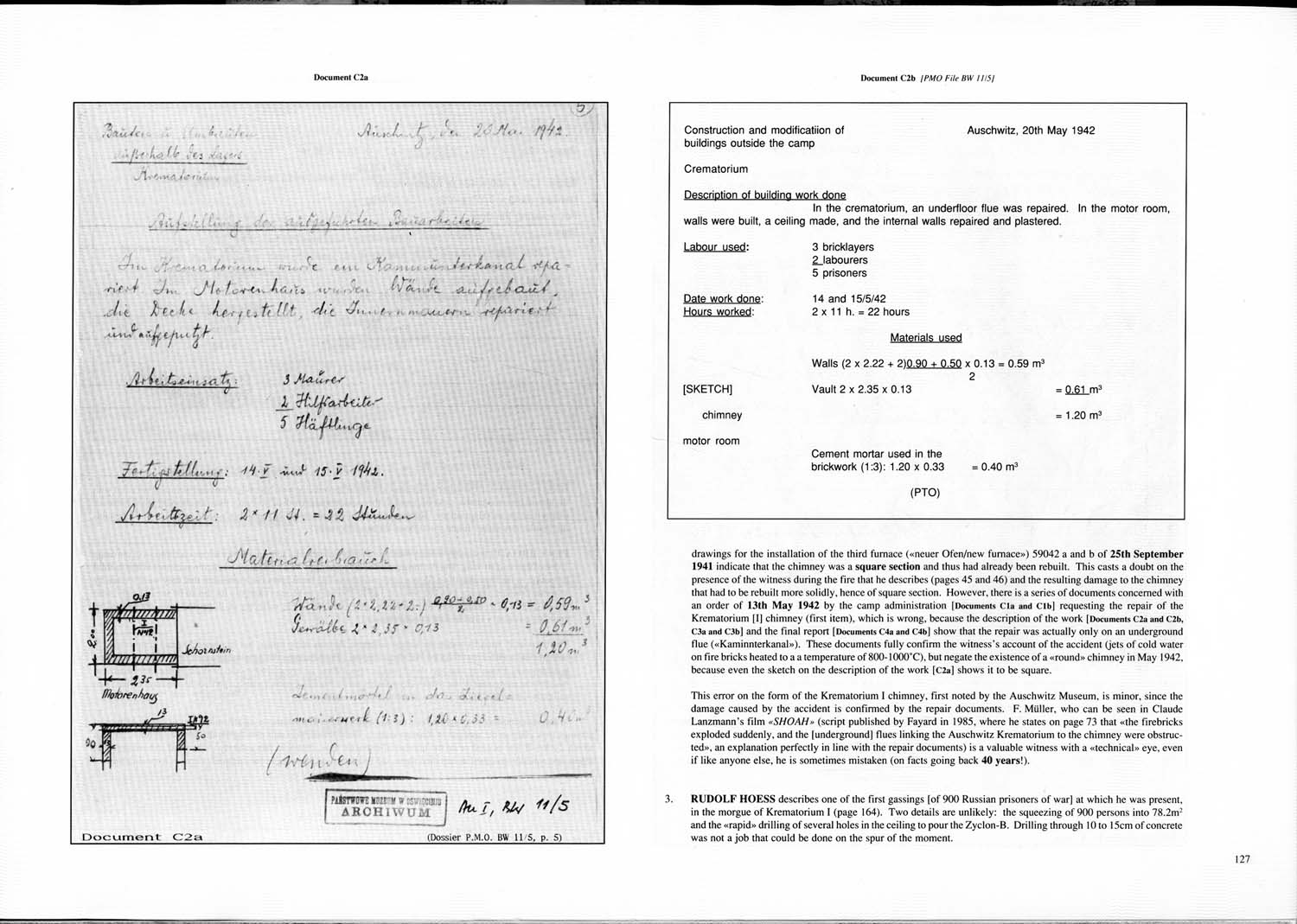 Document C2a
Document C2b
[PMO File BW 11/5]

---

drawings for the installation o f the third furnace ("neuer Ofen / new furnace") 59042 a and b of 25th September 1941 indicate that the chimney was a square section and thus had already been rebuilt. This casts a doubt on the presence of the witness during the fire that he describes (pages 45 and 46) and the resulting damage to the chimney that had to he rebuilt more solidly, hence of square section. However, there is a series of documents concerned with an order of 13th May 1942 by the camp administration [Documents C1a and C1b] requesting the repair of the Krematorium [I] chimney (first item), which is wrong, because the description of the work [Documents C2a and C2b, C3a and C3b] and the final report [Documents C4a and C4b] show that the repair was actually only on an underground flue ("Kaminnterkanal"). These documents fully confirm the witness's account of the accident (jets of cold water on fire bricks heated to a a temperature of 800-1000° C), but negate the existence of a "round" chimney in May 1942, because even the sketch on the description of the work [C2a] shows it to be square.

This error on the form of the Krematorium I chimney, first noted by the Auschwitz Museum, is minor, since the damage caused by the accident is confirmed by the repair documents. F. Müller. who can be seen in Claude Lanzmann's film "SHOAH" (script published by Fayard in 1985, where he states on page 73 that "the firebricks exploded suddenly, and the [underground] flues linking the Auschwitz Krematorium to the chimney were obstructed", an explanation perfectly in line with the repair documents) is a valuable witness with a "technical" eye, even if like anyone else, he is sometimes mistaken (on facts going back 40 years!).
3.
RUDOLF HOESS describes one of the first gassings [of 900 Russian prisoners of war] at which he was present, in the morgue of Krematorium I (page 164). Two details are unlikely: the squeezing of 900 persons into 78.2m² and the "rapid" drilling of several holes in the ceiling to pour the Zyklon B. Drilling through 10 to 15cm of concrete was not a job that could be done on the spur of the moment.