page 10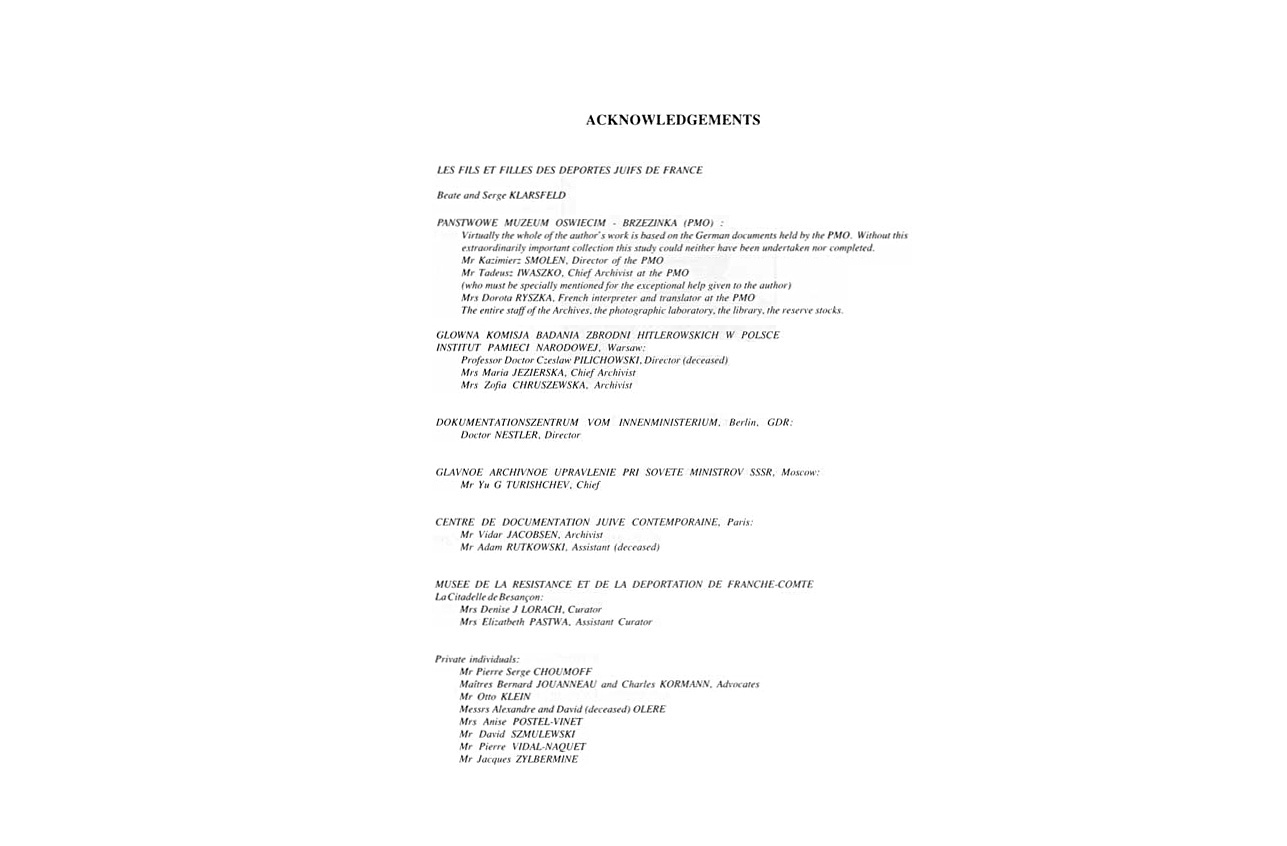 ACKNOWLEDGEMENTS
LES FILS ET FILLES DES DEPORTES JUIFS DE FRANCE
Beate and Serge KLARSFELD
PANSTWOWE MUZEUM OSWIECIM BRZEZINKA (PMO)
Virtually the whole of the author's work is based on the German documents held by the PMO. Without this extraordinarily important collection this study could neither have been undertaken nor completed.
Mr Kaziemierz SMOLEN, Director of the PMO
Mr Tadeusz IWASZKO, Chief Archivist at the PMO (who must be specially mentioned for the exceptional help given to the author)
Mrs Dorota RYSZKA. French interpreter and translator at the PMO
The entire staff of the Archives, the photographic library, the reserve stocks.
GLOWNA KOMISJA BADANIA ZBRODNI HITLEROWSKICH W POLSCE INSTITUT PAMIECI NARODOWEJ. Warsaw
Professor Doctor Czeslaw PILICHOWSKI, Director (deceased)
Mrs Maria JEZIERSKA, Chief Archivist
Mrs Zofia CHRUSZEWSKA, Archivist
DOKUMENTATIONSZENTRUM VOW INNENMINISTERIUM, Berlin. GDR
Doctor NESTLER, Director
GLAVNOE ARCHIVNOE UPRAVLENIE PRI SOVETE MINISTROV SSSR, Moscow:
Mr Yu G TURISHCHEV. Chief
CENTRE DE DOCUMENTATION JUIVE CONTEMPORAINE, Paris
Mr Vidar JACOBSEN. Archivist
Mr Adam RUTKOWSKl. Assistant (Deceased)
MUSES DE LA RESISTANCE ET DE LA DEPORTATION DE FRANCHE-COMTE
La Citadelle de Besançon:
Mrs Denise J LORACH. Curator
Mrs Elizabeth PASTWA, Assistant Curator
Private Individuals:
Mr Pierre Serge CHOUMOFF
Maîtres Bernard JOUANNEAU and Charles KORMANN, Advocates
Mr Otto KLEIN
Messrs Alexandre and David (deceased) OLÈRE
Mrs Anise, POSTEL-VINET
Mr David SZMULEWSKI
Mr Pierre VIDAL-NAQUET
Mr Jacques ZYLBERMINE