page 73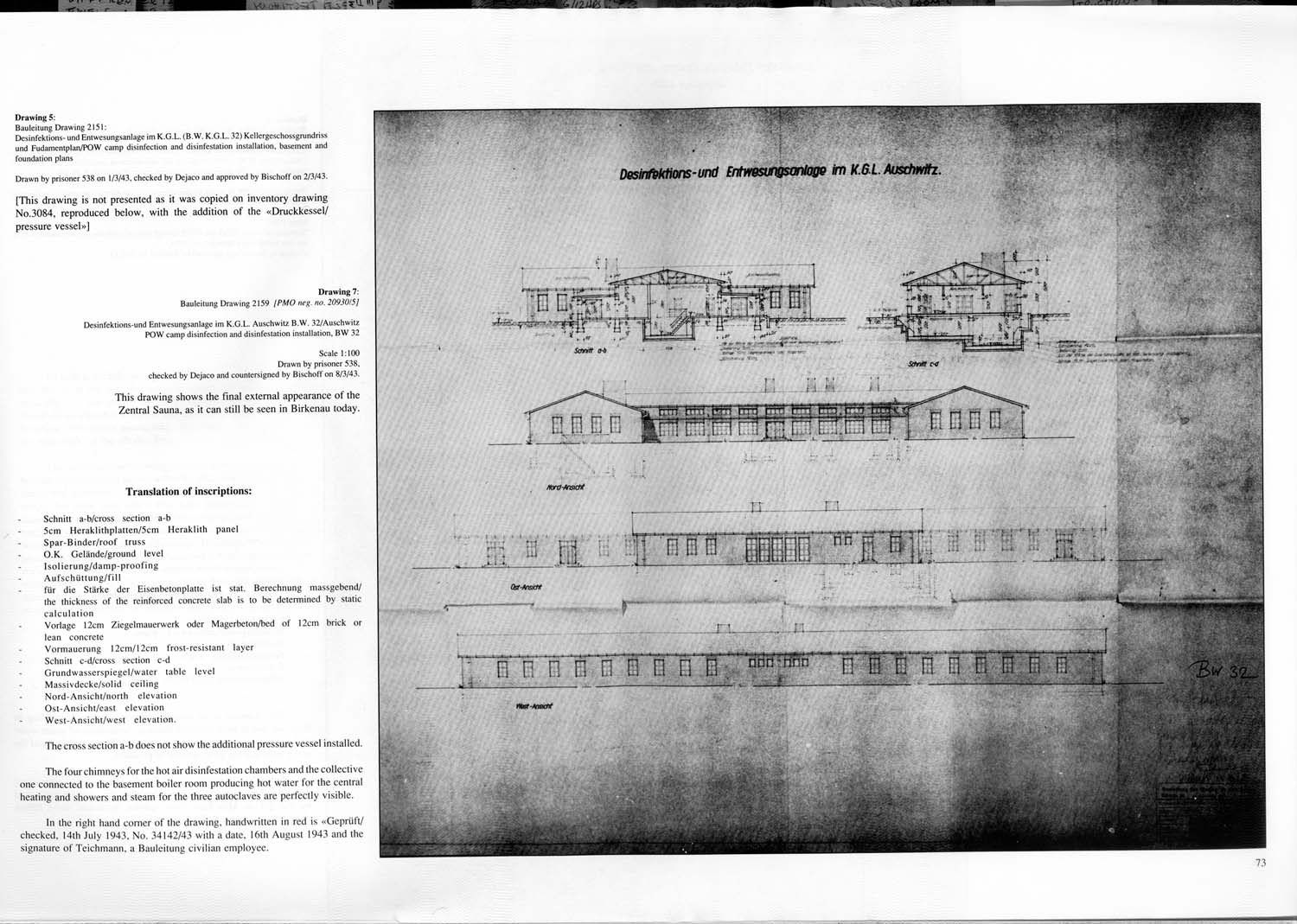 Drawing 5:
Bauleitung Drawing 2151: [PMO neg. No. 20930/5]

Desinfektion- und Entwesungsanlage int K.G.L (B. W. K.G.L. 32) Kellergeschossgrundriss und Fudamentplan / POW camp disinfection and disinfestation installation, basement and foundation plans
Drawn by prisoner 538 on 1/3/43, checked by Dejaco and approved by Bischoff on 2/3/43.
[This drawing is not presented as it was copied on inventory drawing No.3084, reproduced below, with the addition of the "Druckkessel / pressure vessel."]
Drawing 7:
Bauleitung Drawing 2159 [PMO neg. no 20930/5]
Desinfektions-und Entwesungsanlage im K.G.L. Auschwitz B.W. 32 / Auschwitz POW camp disinfection and disinfestation installation, B W 32
Scale 1:100
Drawn by prisoner 538,
checked by Dejaco and countersigned by Bischoff on 8/3/43.
This drawing shows the final external appearance of the Zentral Sauna, as it can still be seen in Birkenau today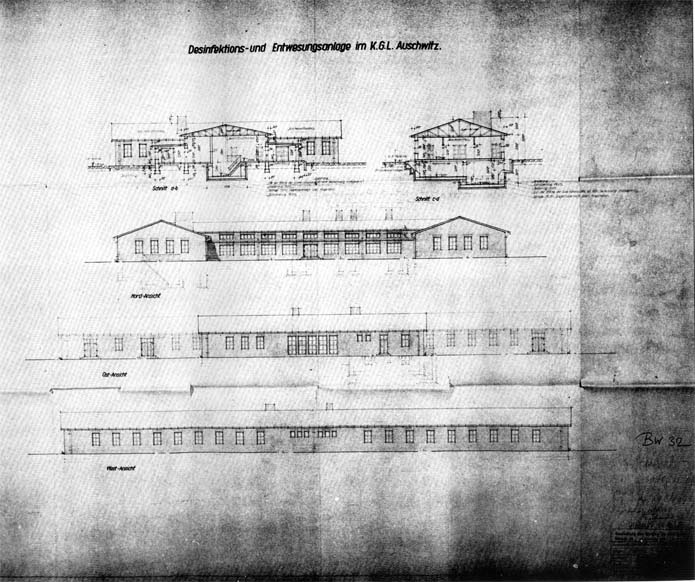 Translation of inscriptions:
·
Schnitt a-b / cross section a-b
·
5cm Heraklithplatten / 5cm Heraklith panel
·
Spar-Binder / roof truss
·
O.K. Gëlande / ground level
·
Isolierung / damp-proofing
·
Aufschültung / fill
·
für die Starke der Eisenbetonplatte ist stat. Berechnung massgebend / the thickness of the reinforced concrete slab is to be determined by static calculation
·
Vorlage 12cm Ziegelmauerwerk oder Magerbeton / bed of 12cm brick or lean concrete
·
Vormauerung 12cm / 12cm frost-resistant layer
·
Schnitt c-d / cross section c-d
·
Grundwasserspiegel / water table level
·
Massivdecke / solid ceiling
·
Nord-Ansicht / north elevation
·
Ost-Ansicht / east elevation
·
West-Ansicht / west elevation
The cross section a-b does not show the additional pressure vessel installed.
The four chimneys for the hot air disinfestation chambers and the collective one connected to the basement boiler room producing hot water for the central heating and showers and steam for the three autoclaves are perfectly visible.

In the right hand corner of the drawing, handwritten in red is "Geprüft / checked, 14th July 1943. No. 34142/43" with a date. 16th August 1943 and the signature of Teichmann, a Bauleitung civilian employee.