page 547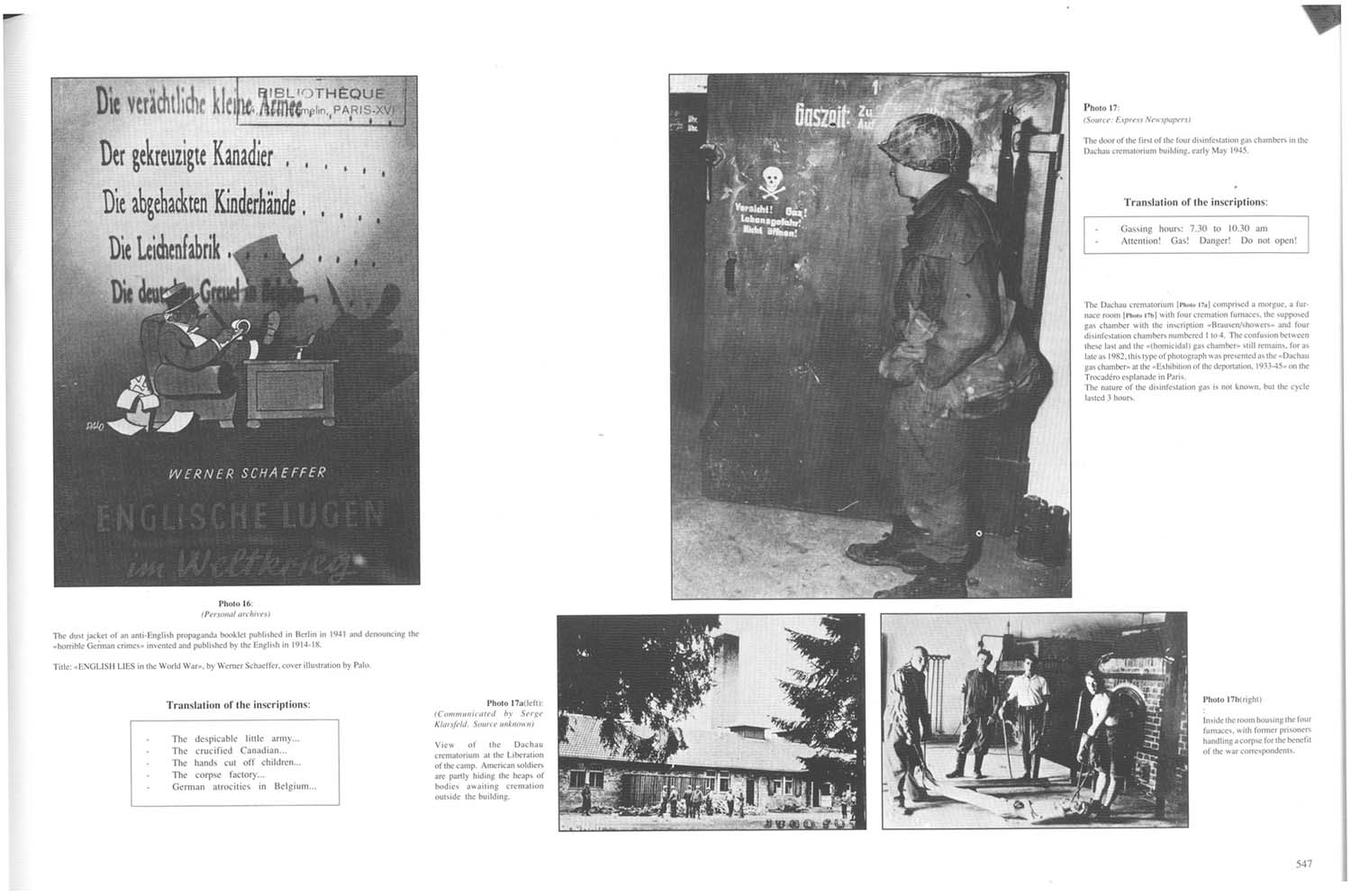 Photo 16:
[Personal archives]

The dust jacket of an anti English propaganda booklet published in Berlin in 1941 and denouncing the "horrible German crimes" invented and published by the English in 1914 18.

Title:"ENGLISH LIES in the World Wars" by Werner Schaeffer, cover illustration by Palo. — …

Translations of the inscriptions:
· The despicable little army …
· The crucified Canadian …
· The hands cut off children …
· The corpse factory …
· German atrocities in Belgium …

---
Photo 17:
(Source: Express Newspapers)
The door of the firs of the four disinfestation gas chambers in the Dachau crematorium building, early May 1945.
Translation of the inscriptions:
· Gassing hours: 7.30 to 10.30 am
· Attention! Gas! Danger! Do not open!
The Dachau crematorium [Photo 17a] comprised a morgue, a furnace room [Photo 17b] with four cremation furnaces, the supposed gas chamber with the inscription "Brausen / Showers" and four disinfestation chambers numbered 1 to 4. The confusion between these last and the "(homicidal) gas chambers" still remains, for as late as 1982, this type of photograph was presented as the "Dachau gas chamber" at the "Exhibition of the deportation, 1933-45" on the Trocadéro esplanade in Paris.

The nature of the disinfestation gas is not known, but the cycle lasted 3 hours.

---
Photo 17a (left):
(Communicated by Serge Klarsfeld. Source unknown)
Photo 17b (right)
View of the Dachau crematorium at the Liberation of the camp. American soldiers are partly hiding the heaps of bodies awaiting cremation outside the building.
Inside the room housing the four furnaces, with former prisoners handling a corpse for the benefit of the war correspondents.