page 388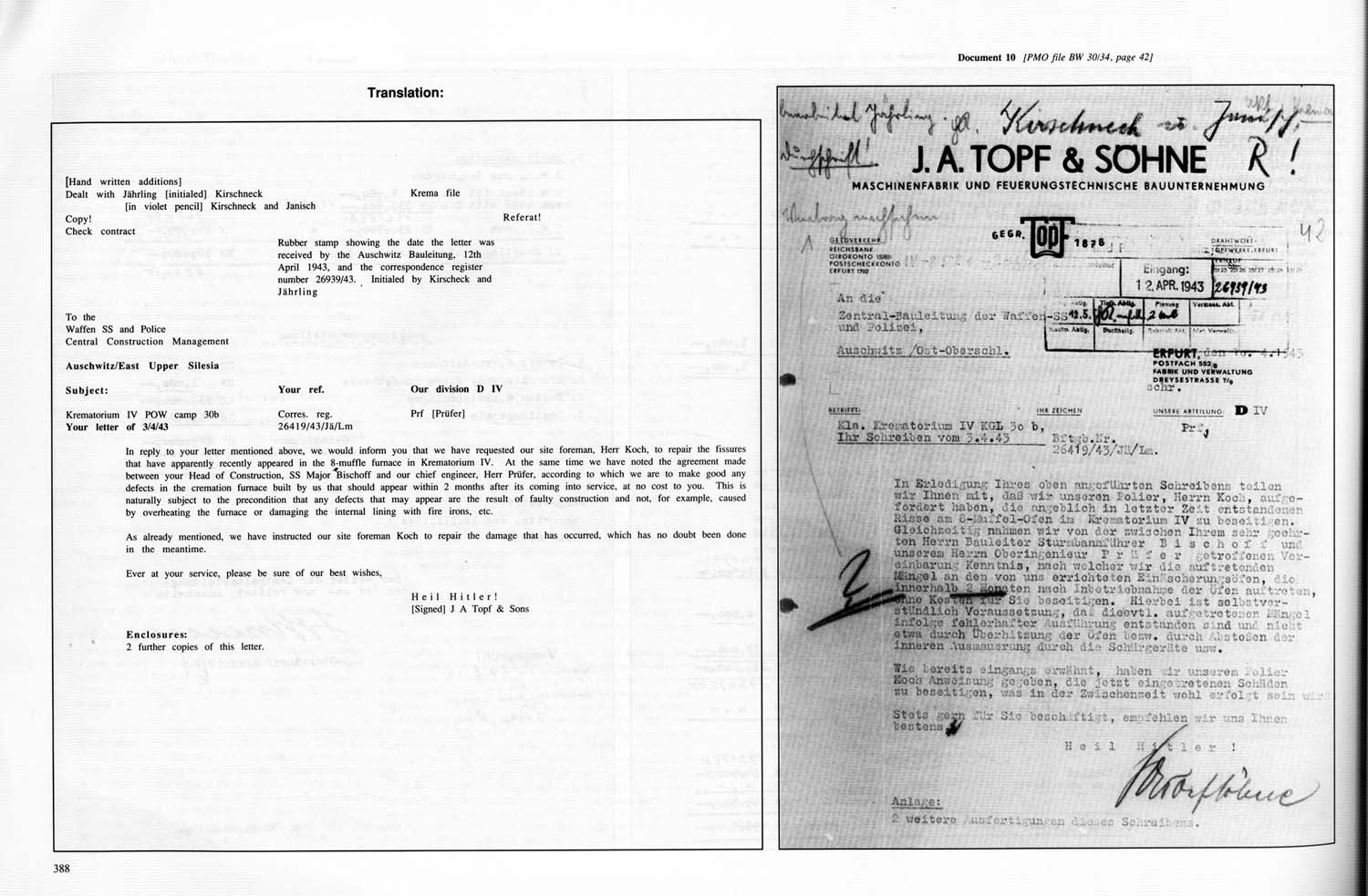 Document 10
[PMO file BW 30/34, page 42]

---
Translation:
[Hand written additions]
Dealt with Jährling [initialed] Kirschneck
[in violet pencil) Kirschneck and Janisch
Krema file
Referat!
Copy!
Check contract
Rubber stamp showing the date the letter was received by the Auschwitz Bauleitung, 12th April 1943, and the correspondence register number 26939/43. Initialed by Kirscheck and Jährling
To the
Waffen SS and Police
Central Construction Management

Auschwitz/East Upper Silesia
Subject:
Your ref.
Our division D IV
Krematorium IV POW
camp 30b
Your letter of 3/4/43
Corres. reg.
26419/43/Jä/Lm
Prf [Prüfer]
In reply to your letter mentioned above, we would inform you that we have requested our site foreman, Herr Koch, to repair the fissures that have apparently recently appeared in the 8-muffle furnace in Krematorium IV. At the same time we have noted the agreement made between your Head of Construction, SS Major Bischoff and our chief engineer. Herr Prüfer, according to which we are to make good any defects in the cremation furnace built by us that should appear within 2 months after its coming into service, at no cost to you. This is naturally subject to the precondition that any defects that may appear are the result of faulty construction and not, for example, caused by overheating the furnace or damaging the internal lining with fire irons, etc.

As already mentioned, we have instructed our site foreman Koch to repair the damage that has occurred, which has no doubt been done in the meantime.

Ever at your service, please be sure of our best wishes,
Heil Hitler!
(Signed] J A Topf & Sons
Enclosures:
2 further copies of this letter.