page 38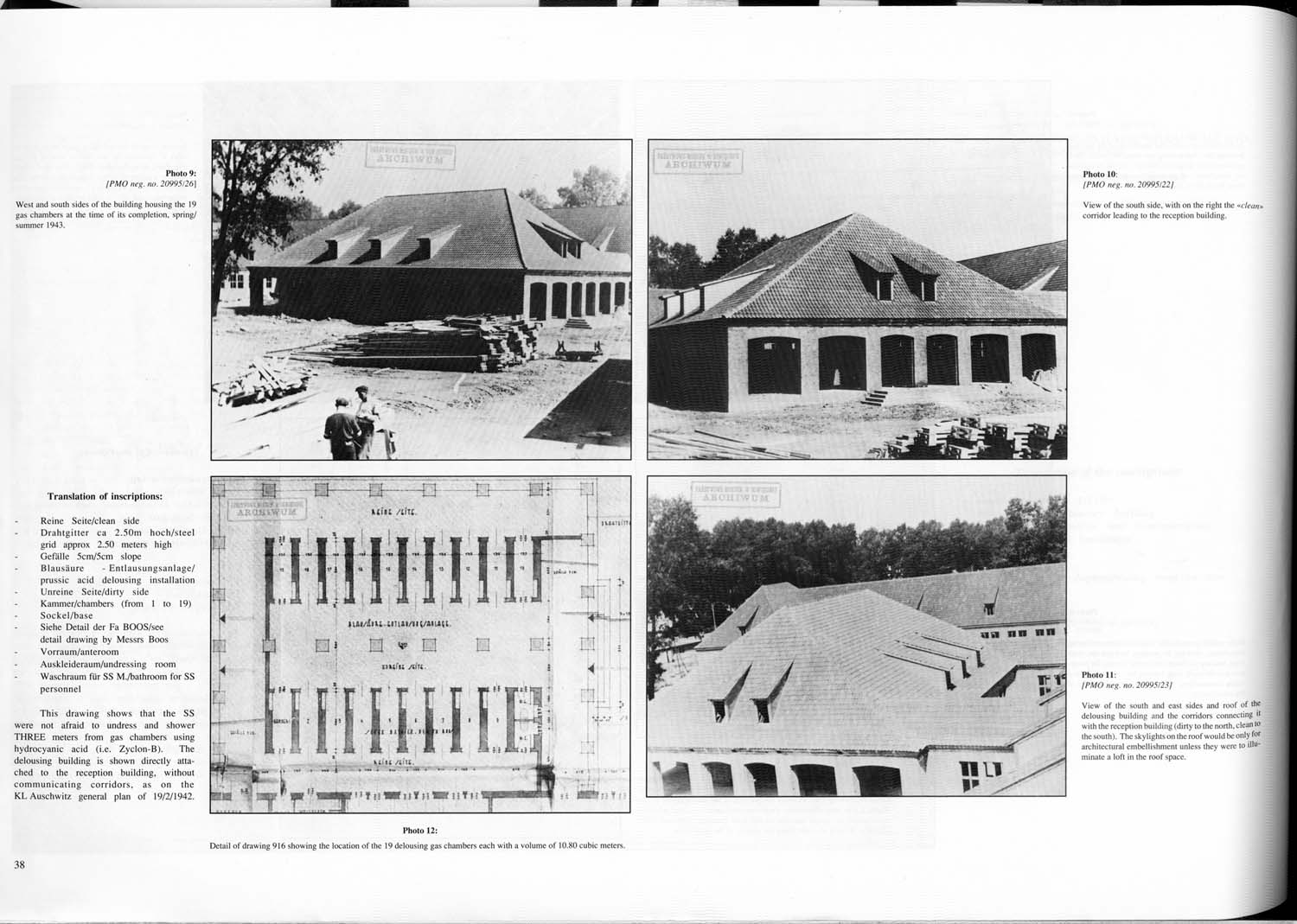 Photo 9:
[PMO neg. no. 20995/26]

West and south sides of the building housing the 19 gas chambers at the time of its completion, spring / summer 1943.
Photo 10:
[PMO neg, No. 20995/22]

View of the south side, with on the right the "clean" corridor leading to the reception building.
Photo 11:
[PMO neg. no. 20995/23]

View of the south and east sides and roof of the of the delousing building and the corridors connecting with the reception building (dirty to the north, clean to the south). The skylights on the roof would he only for architectural embellishment unless they were to illuminate a loft in the roof space.
Photo 12

Detail of drawing 916 showing the location of the 19 delousing gas chambers each with a volume of 10.80 cubic meters.

Translation of inscriptions:
·
Reine Seite / clean side
·
Drahtgitter ca 2.50m hoch / steel grid approx 2.50 meters high
·
Gefälle 5cm / 5cm slope
·
Blausäure — Entlausungsanlage / prussic acid delousing installation
·
Unreine Seile / dirty side
·
Kammer / chambers (from 1 to 19)
·
Sockel / base
·
Siehe Detail der Fa BOOS / see detail drawing by Messrs Boos
·
Vorraum / anteroom
·
Auskleideraum / undressing room
·
Waschraum für SSM. / bathroom for SS personnel
This drawing shows that the SS were not afraid to undress and shower THREE meters from gas chambers using hydrocyanic acid (i.e. Zyklon-B). The delousing building is shown directly attached to the reception building, without communicating corridors, as on the KL Auschwitz general plan of 19/2/1942.