page 375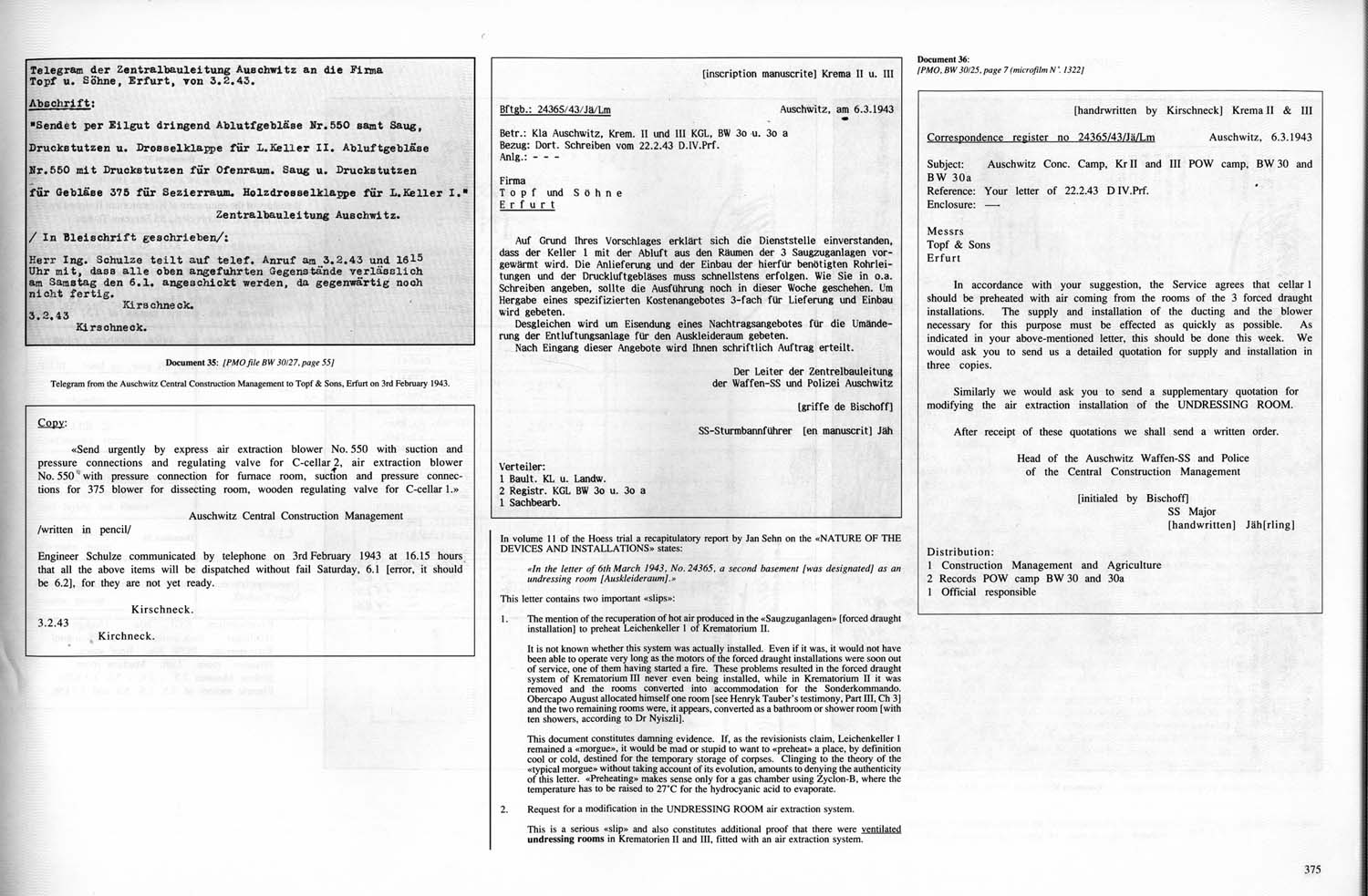 Document 35:

---

Document 35:
[PMO file BW 30/27, page 55]

Telegram from the Auschwitz Central Construction Management to Topf & Sons. Erfurt on 3rd February 1943.
Copy:

"Send urgently by express air extraction blower No. 550 with suction and pressure connections and regulating valve for C-cellar 2, air extraction blower No. 550 with pressure connection for furnace room, suction and pressure connections for 375 blower for dissecting room, wooden regulating valve for C-cellar 1."
Auschwitz Central Construction Management
/written in pencil/

Engineer Schulze communicated by telephone on 3rd February 1943 at 16.15 hours that all the above items will be dispatched without fail Saturday, 6.1 [error, it should be 6.2], for they are not yet ready.
Kirschneck.
3.2.43
Kirchneck.

---
Document 36:

---

Document 36:
[PMO, BW 30/25, page 7 (microfilm No. 1322]
[handwritten by Kirschneck] Krema II & III
Correspondence register no 24365/43/Jä/Lm
Auschwitz, 6.3.1943
Subject: Auschwitz Conc. Camp, Kr II and III POW camp, BW 30
and BW 30a
Reference: Your letter of 22.2.43 D IV.Prf.
Enclosure: —
Messrs
Topf & Sons
Erfurt

In accordance with your suggestion, the Service agrees that cellar I should be preheated with air coming from the rooms of the 3 forced draught installations. The supply and installation of the ducting and the blower necessary for this purpose must be effected as quickly as possible. As indicated in your above-mentioned letter, this should be done this week. We would ask you to send us a detailed quotation for supply and installation in three copies.

Similarly we would ask you to send a supplementary quotation for modifying the air extraction installation of the UNDRESSING ROOM.

After receipt of these quotations we shall send a written order.
Head of the Auschwitz Waffen-SS and Police
of the Central Construction Management

(initialed by Bischoff]
SS Major
[handwritten] Jäh[rling]
Distribution:
1 Construction Management and Agriculture
2 Records POW camp BW 30 and 30a l
Official responsible

---

---
In volume II of the Hoess trial a recapitulatory report by Jan Sohn on the "NATURE OF THE DEVICES AND INSTALLATIONS," states:

"In the letter of 6th March 1943, No. 24365, a second basement [was designated] as an undressing room [Auskleideraum]."

This letter contains two important "slips":
1.
The mention of the recuperation of hot air produced in the "Saugzuganlagen" [forced draught installation] to preheat Leichenkeller I of Krematorium II.

It is not known whether this system was actually installed. Even if it was, it would not have been able to operate very long as the motors of the forced draught installations were soon out of service, one of them having started a fire. These problems resulted in the forced draught system of Krematorium III never even being installed, while in Krematorium II it was removed and the rooms converted into accommodation for the Sonderkommando. Obercapo August allocated himself one room [see Henryk Tauber's testimony, Part III. Ch 3] and the two remaining rooms were, it appears, converted as a bathroom or shower room [with ten showers, according to Dr Nyiszli].

This document constitutes damning evidence. If, as the revisionists claim, Leichenkeller I remained a "morgue" it would be mad or stupid to want to "preheat" a place, by definition cool or cold, destined for the temporary storage of corpses. Clinging to the theory of the "typical morgue" without taking account of its evolution, amounts to denying the authenticity of this letter. "Preheating" makes sense only for a gas chamber using Zyklon-B, where the temperature has to be raised to 27°C for the hydrocyanic acid to evaporate.
2.
Request for a modification in the UNDRESSING ROOM air extraction system.

This is a serious "slip" and also constitutes additional proof that there were ventilated undressing rooms in Krematorien II and III, fitted with an air extraction system.