page 350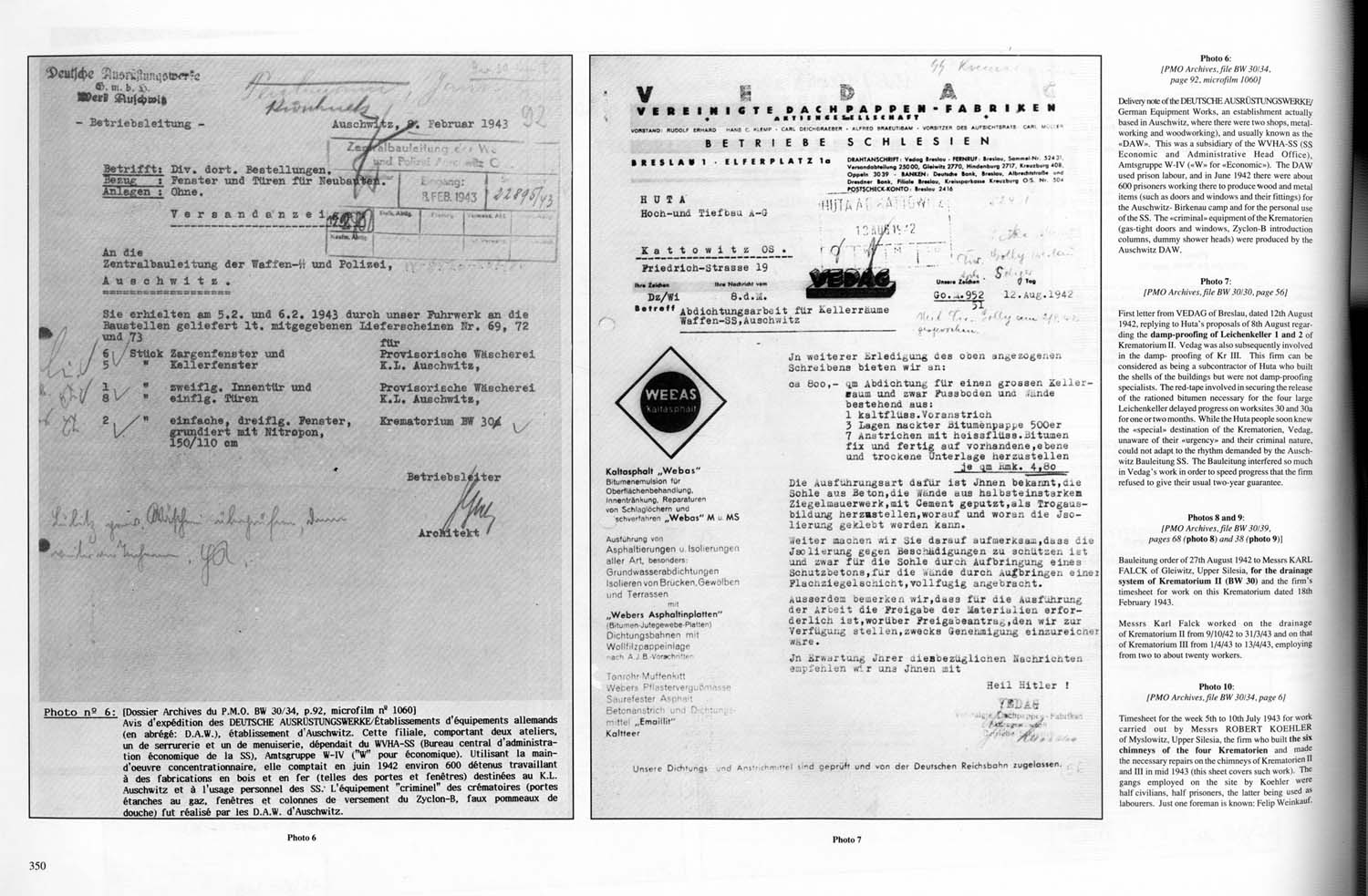 Photo 6

---
| | |
| --- | --- |
| Photo 7 | |
Photo 6:
[PMO Archives, file BW 30/34, page 92, microfilm 1060]
Delivery note of the DEUTSCHE AUSRÜSTUNGSWERKE/ German Equipment Works, an establishment actually based in Auschwitz, where there were two shops, metalworking and woodworking), and usually known as the "DAW". This was a subsidiary of the WVHA-SS (SS Economic and Administrative Head Office), Amtsgruppe W-IV ("W" for "Economic"). The DAW used prison labor, and in June 1942 there were about 600 prisoners working there to produce wood and metal items (such as doors and windows and their fittings) for the Auschwitz-Birkenau camp and for the personal use of the SS. The "criminal" equipment of the Krematorien (gas-tight doors and windows, Zyklon-B introduction columns, dummy shower heads) were produced by the Auschwitz DAW.
Photo 7
[PMO Archives, file BW 30/30, page 56]
First letter from VEDAG of Breslau, dated 12h August 1942, replying to Huta's proposals of 8th August regarding the damp-proofing of Leichenkeller 1 and 2 of Krematorium II. Vedag was also subsequently involved in the damp-proofing of Kr III. This firm can be considered as being a subcontractor of Huta who built the shells of the buildings but were not damp-proofing specialists. The red-tape involved in securing the release of the rationed bitumen necessary for the four large Leichenkeller delayed progress on worksites 30 and 30a for one or two months. While the Huta people soon knew the "special" destination of the Krematorien, Vedag, unaware of their "urgency" and their criminal nature, could not adapt to the rhythm demanded by the Auschwitz Bauleitung SS. The Bauleitung interfered so much in Vedag's work in order to speed progress that the firm refused to give their usual two-year guarantee.
Photos 8 and 9:
[PMO Archives, file BW 30/39,
pages 68 (photo 8) and 38 (photo 9)
Bauleitung order of 27th August 1942 to Messrs KARL FALCK of Gleiwitz, Upper Silesia, for the drainage system of Krematorium II (BW 30) and the firm's timesheet for work on this Krematorium dated 18th February 1943.

Messrs Karl Falck worked on the drainage of Krematorium II from 9/10/42 to 31/3/43 and on that of Krematorium III from 1/4/43 to 13/4/43, employing from two to about twenty workers.
Photo 10:
[PMO archives, file BW 30/34, page 6]
Timesheet for the week 5th to 10th July 1943 for work carried out by Messrs ROBERT KOEHLER of Myslowitz, Upper Silesia, the firm who built the six chimneys of the four Krematorien and made the necessary repairs on the chimneys of Krematorien II and III in mid 1943 (this sheet covers such work). The gangs employed on the site by Koehler were half civilians, half prisoners, the latter being used as laborers. Just one foreman is known: Filip Weinkauf.