page 322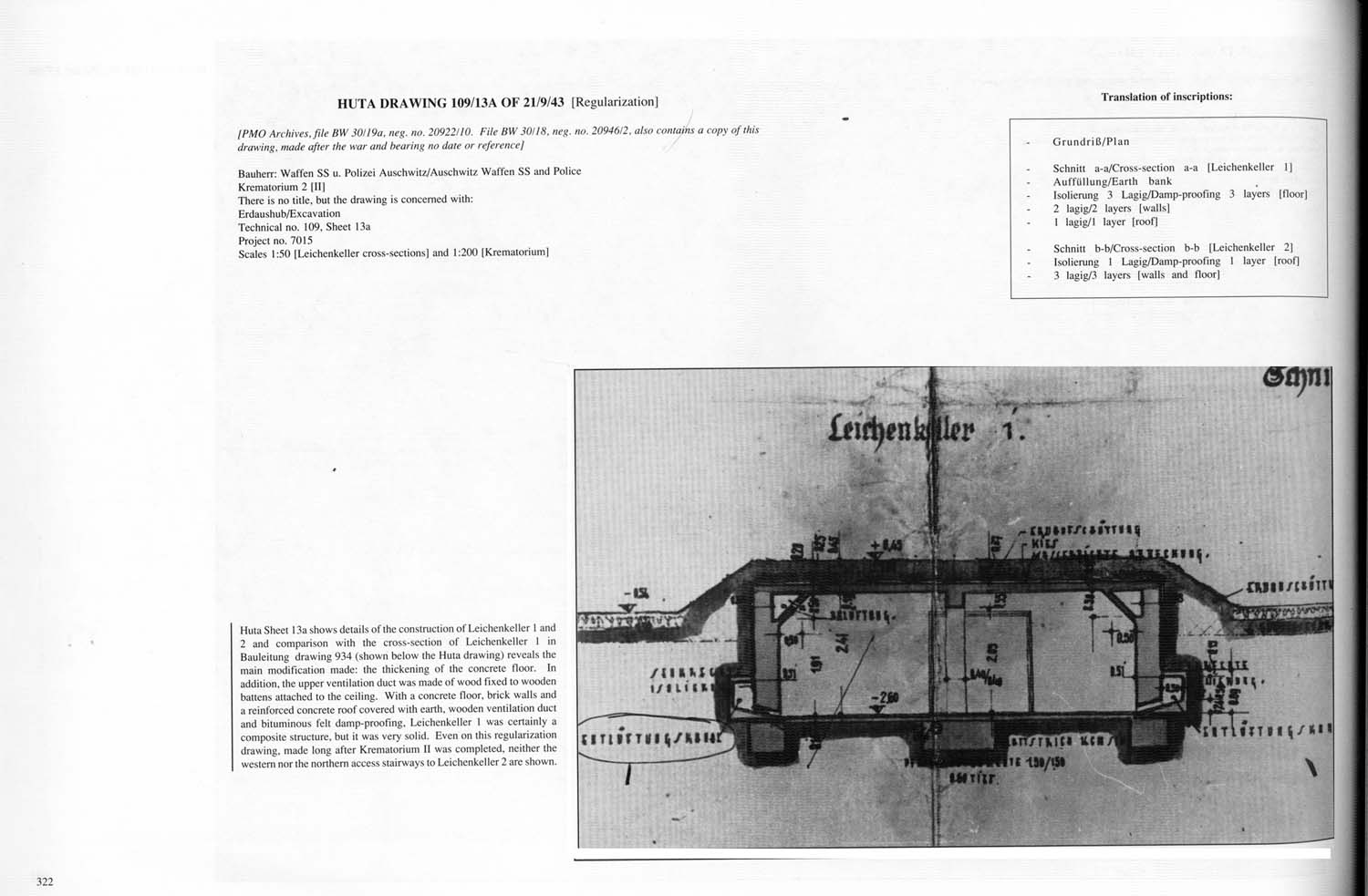 HUTA DRAWING 109/13A OF 21/9/43 [Regularization]
[PMO Archives, file BW 30/19a, neg. no. 20922/10. File BW 30/18, neg. no. 20964/2, also contains a copy of this drawing, made after the war and bearing no date or reference]
Bauherr: Waffen SS u. Polizei Auschwitz/ Auschwitz Waffen SS and Police
Krematorium 2 [II]
There is no title, but the drawing is concerned with:
Erdaushub / Excavation
Technical no. 109, Sheet 13a
Project no. 7015
Scales 1:50 [Leichenkeller cross-sections] and 1:200 [Krematorium]

---

---
Translation of inscriptions:
·
Grundriß / Plan Schnitt
·
a-a / Cross-section a-a [Leichenkeller 1]
·
Auffüllung / earth bank
·
Isolierung 3 Lagig / Damp-proofing 3 layers [floor]
·
2 lagig / 2 layers [walls]
·
1 lagig / 1 layer [roof]
·
Schnitt b-b / Cross-section b-b [Leichenkeller 2]
·
Isolierung 1 Lagig / Damp-proofing 1 layer [roof]
·
3 lagig / 3 layers [walls and floors]

---

Huta Sheet 13a shows details of the construction of Leichenkeller 1 and 2 and comparison with the cross-section of Leichenkeller 1 in Bauleitung drawing 934 (shown below the Huta drawing) reveals the main modification made; the thickening of the concrete floor. In addition, the upper ventilation duct was made of wood fixed to wooden battens attached to the ceiling. With a concrete floor, brick walls and a reinforced concrete roof covered with earth, wooden ventilation duct and bituminous felt damp-proofing, Leichenkeller 1 was certainly a composite structure, but it was very solid. Even on this regularization drawing, made long after Krematorium II was completed, neither the western nor the northern access to Leichenkeller 2 are shown.