page 298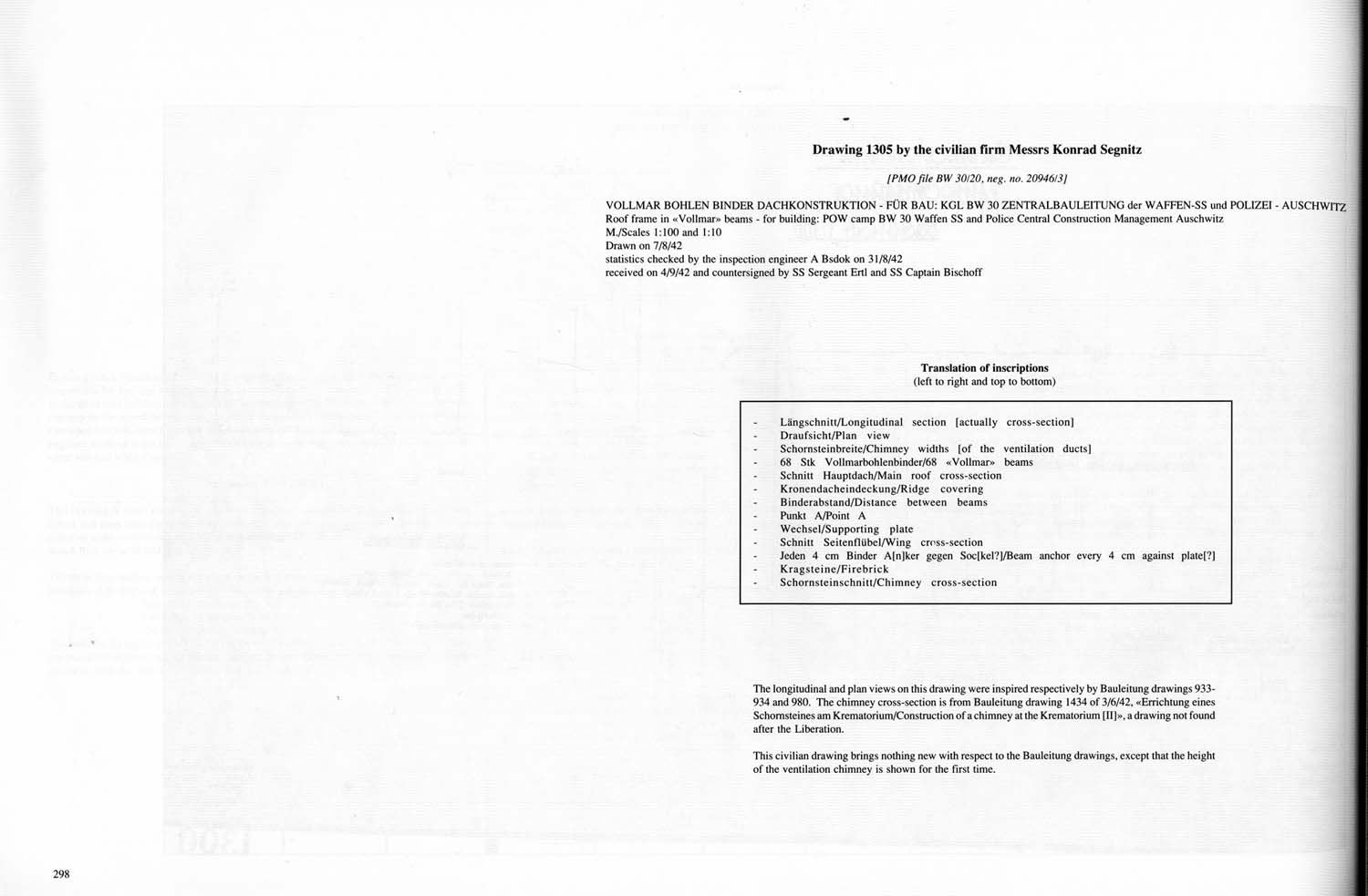 Drawing 1305 by the civilian firm Messrs Konrad Segnitz

[PMO file BW 30/20, neg. no. 20946/3]
VOLLMAR BOHLEN BINDER DACHKONSTRUKTION FÜR BAU: KGL BW 30 ZENTRALBAULEITUNG der WAFFEN SS und POLIZEI — AUSCHWITZ /
Roof frame in "Vollmar" beams for building: POW camp BW 30 Waffen SS and Police Central Construction Management Auschwitz
M. /Scales 1:100 and 1:10
Drawn on 7/8/42
Statistics checked by the inspection engineer A Bsdok on 31/8/42
received on 4/9/42 and countersigned by SS Sergeant Ertl and SS Captain Bischoff

---

Translation of inscriptions
(left to right and top to bottom)
·
Längsschnitt / Longitudinal section [actually cross section]
·
Draufsicht / Plan view
·
Schornsteinbreite / Chimney widths [of the ventilation ducts]
·
68 Stk Vollmarbohlenbinder / 68 "Vollmar" beams
·
Schnitt Hauptdach / Main roof cross section
·
Kronendacheiedeckung / Ridge covering
·
Binderabstand / Distance between beams
·
Punkt A / Point A
·
Wechsel / Supporting plate
·
Schnitt Seitenflübel /Wing cross-section
·
Jeden 4 cm Binder A[n]ker gegen Soc[kel?] / Beam anchor every 4 con against plate [?]
·
Kragstiene / Firebrick
·
Schornsteinschnitt / Chimney cross-section
The longitudinal and plan views on this drawing were inspired respectively by Bauleitung drawings 933 934 and 980. The chimney cross section is from Bauleitung drawing 1434 of 3/6/42, "Errichtung eines Schornsteines am Krematorium / Construction of a chimney at the Krematorium [II]", a drawing not found after the Liberation.

This civilian drawing brings nothing new with respect to the Bauleitung drawings, except that the height of the ventilation chimney is shown for the first time.