page 296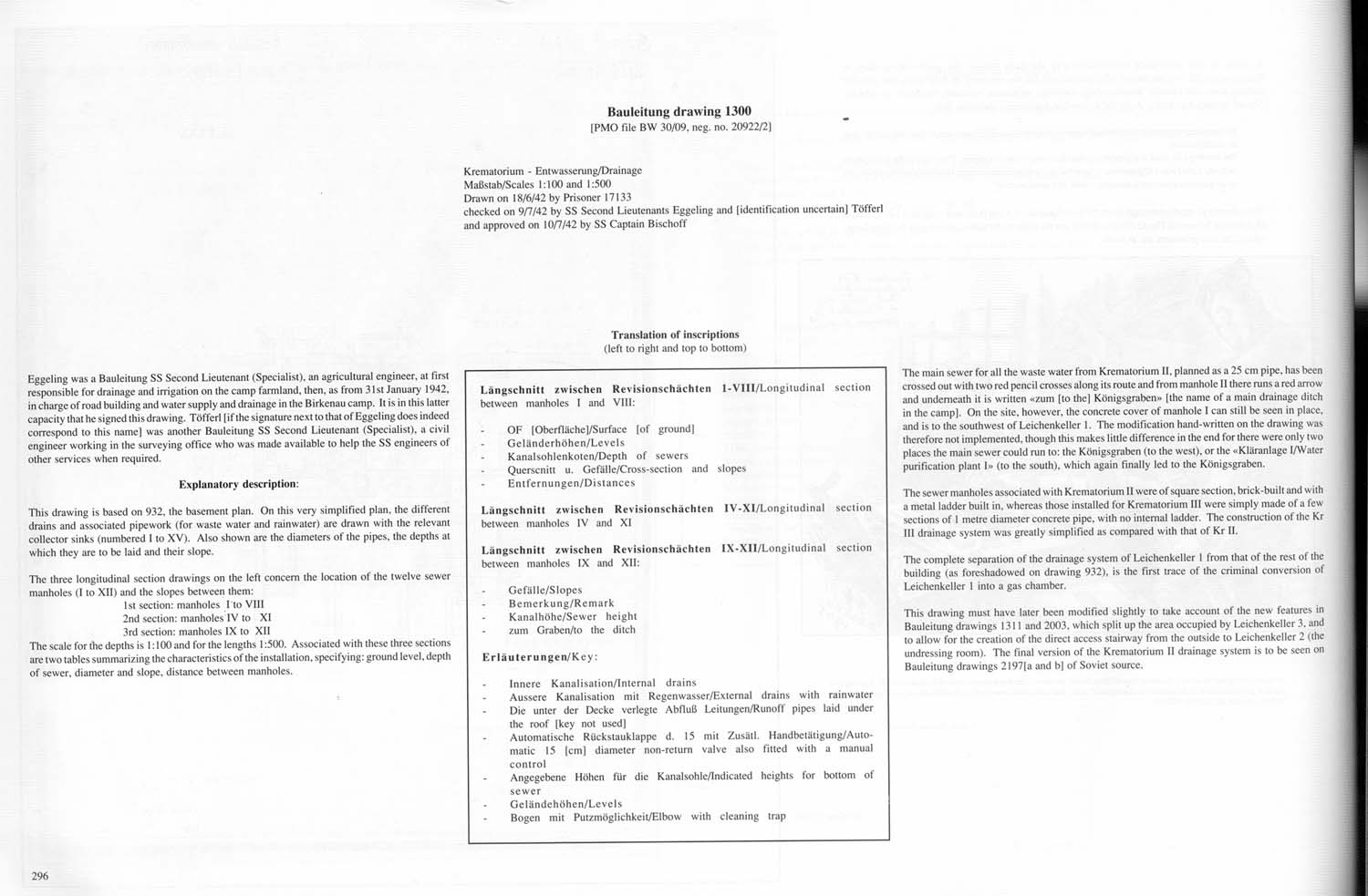 Bauleitung drawing 1300
[PMO File BW 30/09, neg no. 20922/2]
Krematorium — Entwassering / Drainage
Maßstab/Scale 1:100 and 1:500
Drawn on 18/6/42 by Prisoner 17133
checked on 9/7/42 by SS Second Lieutenants Eggeling and [Identification uncertain] Töfferl and approved on 10/7/42 by SS Captain Bischoff
Eggeling was a Bauleitung SS Second Lieutenant (specialist), an agricultural engineer, at first responsible for drainage and irrigation on the camp farmland, then, as from 31st January 1942, in charge of road building and water supply and drainage in the Birkenau camp. It is in this latter capacity that he signed this drawing. Töfferl [if the signature next to that of Eggeling does indeed correspond to this name] was another Bauleitung SS Second Lieutenant (Specialist), a civil engineer working in the surveying office who was made available to help the SS engineers of other services when required.
Explanatory description:
This drawing is based on 932, the basement plan. On this very simplified plan, the different drains and associated pipework (for waste water and rainwater) are drawn with the relevant collector sinks (numbered I to XV). Also shown are the diameters of the pipes, the depths at which they are to be laid and their slope.

The three longitudinal section drawings on the left concern the location of the twelve sewer manholes (I to XII) and the slopes between them:

1st section: manholes I to VIII
2nd section: manholes IV to XI
3rd section: manholes IX to XII

The scale for the depths is 1:100 and for the lengths 1:500. Associated with these three sections are two tables summarizing the characteristics of the installation, specifying: ground level, depth of sewer, diameter and slope, distance between manholes.

---
Translation of inscriptions
(left to right and top to bottom)
Längsschnitt zwischen Revisionachächten 1-VIII / Longitudinal section between manholes I and VIII :
·
OF [Oberfläche] / Surface [of ground]
·
Geländerhöhen / Levels
·
Kanalsohlenkoten / Depth of sewers
·
Querschnitt u. Gefälle / Cross-section and slopes
·
Entfernungen / Distances
Längsschnitt zwischen Revisionachächten IV-XI / Longitudinal section between manholes IV and XI:
Längsschnitt zwischen Revisionachächten IX-XIII / Longitudinal section between manholes IX and XII:
·
Gefälle / Slopes
·
Bemerkung / Remark
·
Kanalhöhe / Sewer height
·
zum Graben / to the ditch
Erläuterungen / Key
·
Innere Kanalisation / Internal drains
·
Aussere Kanalisation mit Regenwasser / External drains with rainwater
·
Die unter der Decke verlege Abfluß Leitungen / Runoff pipes laid under the roof [key not used]
·
Automatische Rückstauklappe d. 15 mit Zusätl. Handbetäitigung / Automatic 15 [cm] diameter non-return valve also fitted with a manual control
·
Angegebene Höhen für die Kanalsohle / Indicated heights for bottom of sewer
·
Geländehöhen / Levels
·
Bogen mit Putzmöglichkeit / Elbow with cleaning trap

---

The main sewer for all the waste water from Krematorium II, planned as a 25 cm pipe, has been crossed out with two red pencil crosses along its route and from manhole II there runs a red arrow and underneath it is written "zum [to the] Königsgraben" [the name of a main drainage ditch in the camp]. On the site, however, the concrete cover of manhole I can still be seen in place, and is to the southwest of Leichenkeller 1. The modification hand-written on the drawing was therefore not implemented, though this makes little difference in the end for there were only two places the main sewer could run to: the Königsgraben (to the west), or the "Kläranlage I/ Water purification plant I" (to the south), which again finally led to the Königsgraben.

The sewer manholes associated with Krematorium II were of square section, brick-built and with a metal ladder built in, whereas those installed for Krematorium III were simply made of a few sections of 1 meter diameter concrete pipe, with no internal ladder. The construction of the Kr III drainage system was greatly simplified as compared with that of Kr II.

The complete separation of the drainage system of Leichenkeller 1 from that of the rest of the building (as fore shadowed on drawing 932), is the first trace of the criminal conversion of Leichenkeller 1 into a gas chamber.

This drawing must have later been modified slightly to take account of the new features in Bauleitung drawings 1311 and 2003, which split up the area occupied by Leichenkeller 3, and to allow for the creation of the direct access stairway from the outside to Leichenkeller 2 (the undressing room). The final version of the Krematorium II drainage system is to be seen on Bauleitung drawing 2197 [a and b] of Soviet source.