page 241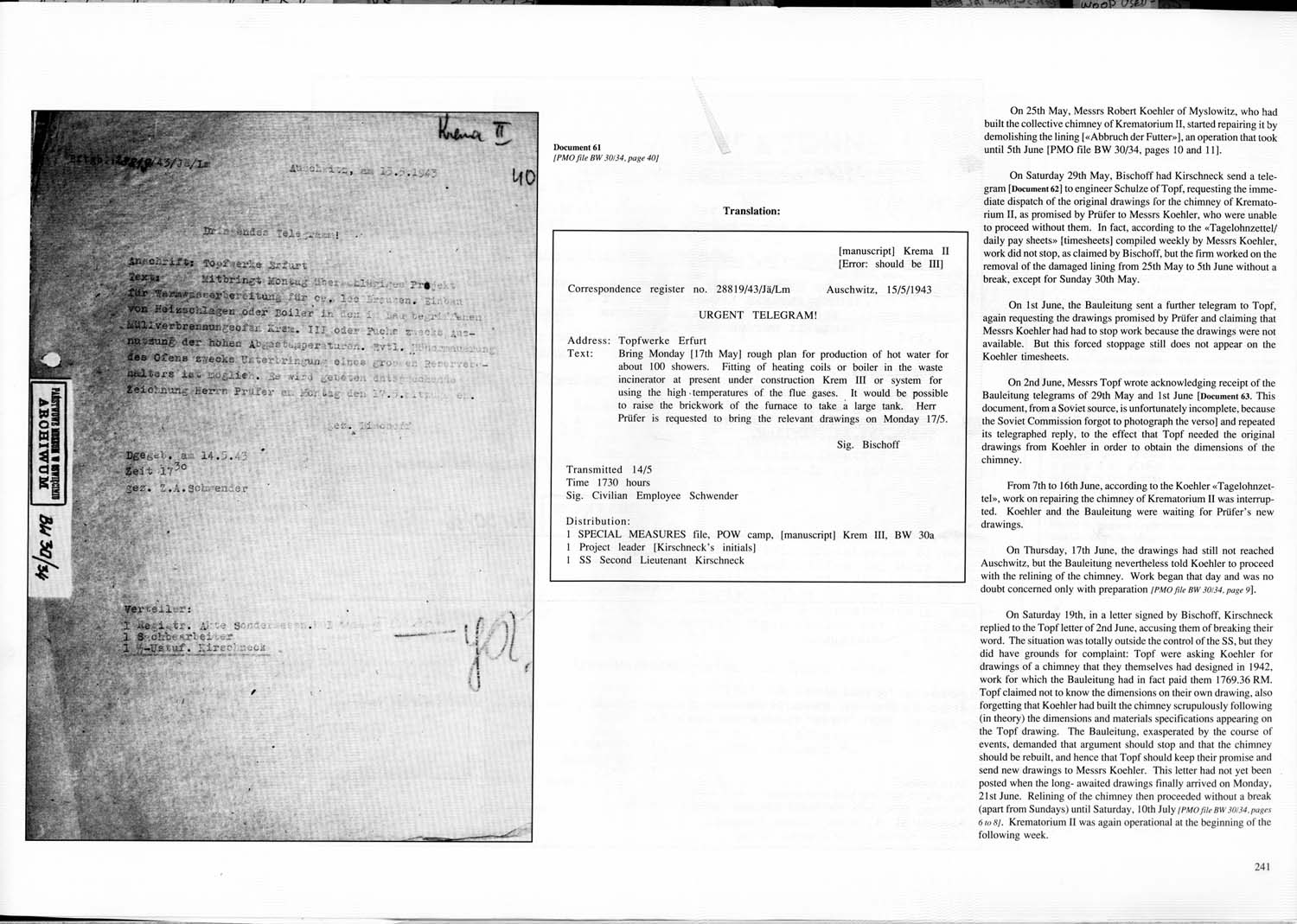 Document 61
[PMO file BW 30/34, page 40]

---

Translation:
[manuscript] Krema II
[Error: should be III]
Auschwitz, 15/5/1943
Correspondence register no. register no. 28819/43/Jä/Lm
URGENT
TELEGRAM!
Address :
Topfwerke Erfurt
Text:
Bring Monday [17th May] rough plan for production of hot water for about 100 showers. Fitting of heating coils or boiler in the waste incinerator at present under construction Krema III or system for using the high temperatures of the flue gases. It would be possible to raise the brickwork of the furnace to take a large tank. Herr Prüfer is requested to bring the relevant drawings on Monday 17/5.
Sig. Bischoff
Transmitted 14/5
Time 1730 hours
Sig. Civilian Employee Schwender

Distribution
1 SPECIAL MEASURES file, POW camp, [manuscript] Krema III, BW 30a
1 Project leader [Kirschneck's initials]
1 SS Second Lieutenant Kirschneck

---

On 25th May Messrs Robert Koehler of Myslowitz, who had built the collective chimney of Krematorium II, started repairing it by demolishing the lining ["Abbruch der Futter"], an operation that took until 5th June [PMO file BW 30/34, pages 10 and 11.]

On Saturday 29th May, Bischoff had Kirschneck send a telegram [Document 62] to engineer Schulze of Topf, requesting the immediate dispatch of the original drawings for the chimney of Krematorium II, as promised by Prüfer to Messrs Koehler, who were unable to proceed without them. In fact, according to the "Tagelohnzettel / daily pay sheets" [timesheets] compiled weekly by Messrs Koehler, work did not stop, as claimed by Bischoff, but the firm worked on the removal of the damaged lining from 25th May to 5th June without a break, except for Sunday 30th May.

On 1st June, the Bauleitung sent a further telegram to Topf, again requesting the drawings promised by Prüfer and claiming that Messrs Koehler had had to stop work because the drawings were not available. But this forced stoppage still does not appear on the Koehler timesheets.

On 2nd June, Messrs Topf wrote acknowledging receipt of the Bauleitung telegrams of 29th May and 1st June [Document 63. This document, from a Soviet source, is unfortunately incomplete, because the Soviet Commission forgot to photograph the verso] and repeated its telegraphed reply, to the effect that Topf needed the original drawings front Koehler in order to obtain the dimensions of the chimney.

From 7th to 16th June, according to the Koehler "Tagelohnzettel", work on repairing the chimney of Krematorium II was interrupted. Koehler and the Bauleitung were waiting for Prüfer's new drawings.

On Thursday, 17th June, the drawings had still not reached Auschwitz, but the Bauleitung nevertheless told Koehler to proceed with the relining of the chimney. Work began that day and was no doubt concerned only with preparation [PMO file BW 30/34, page 9].

On Saturday 19th, in a letter signed by Bischoff. Kirschneck replied to the Topf letter of 2nd June. accusing them of breaking their word. The situation was totally outside the control of the SS. but they did have grounds for complaint: Topf were asking Koehler for drawings of a chimney that they themselves had designed in 1942, work for which the Bauleitung had in fact paid them 1769.36 RM. Topf claimed not to know its know the dimensions on their own drawing, also forgetting that Koehler had built the chimney scrupulously following (in theory) the dimensions and materials specifications appearing on the Topf drawing. The Bauleitung, exasperated by the course of events, demanded that argument should stop and that the chimney should be rebuilt, and hence that Topf should keep their promise and send new drawings to Messrs Koehler. This letter had not yet been posted when the long awaited drawings finally arrived on Monday, 21st June. Relining of the chimney then proceeded without a break (apart from Sundays) until Saturday, 10th July [PMO file BW 30/34, pages 6 to 8]. Krematorium II was again operational at the beginning of the following week.