page 23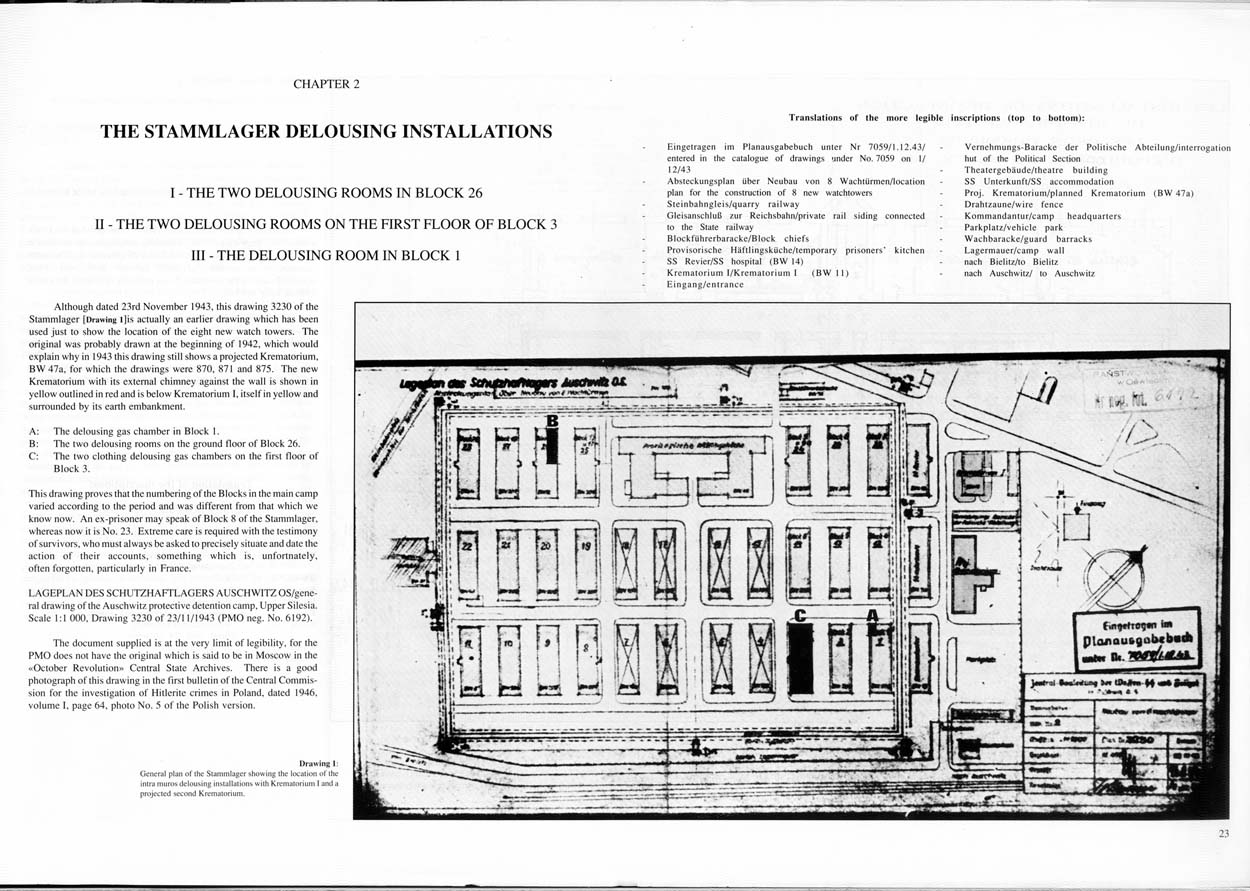 CHAPTER 2 THE STAMMLAGER DELOUSING INSTALLATIONS
I — THE TWO DELOUSING ROOMS IN BLOCK 26
II — THE TWO DELOUSING ROOMS ON THE FIRST FLOOR OF BLOCK 3
III — THE DELOUSING ROOM IN BLOCK 1
Although dated 23rd November 1943. this drawing 3230 of the Stammlager [Drawing 1] is actually an earlier drawing which has been used just to show the location of the eight new watch towers. The original was probably drawn at the beginning of 1942. which would explain why in 1943 this drawing still shows a projected Krematorium. BW 47a, for which the drawings were 870, 871 and 875. The mew Krematorium with its external chimney against the wall is shown in yellow outlined in red and is below Krematorium I. itself in yellow and surrounded by its earth embankment.
The delousing gas chamber in Block I.
The two delousing rooms on the ground floor of Block 26.
The two clothing delousing gas chambers on the first floor of Block 3.
This drawing proves that the numbering of the Blocks in the main camp varied according to the period and was different from that which we know now, An ex-prisoner may speak of Block 8 of the Stammlager. whereas now it is No.23. Extreme care is required with the testimony of survivors. who must always be asked to precisely situate and date the action of their accounts, something which is, unfortunately, often forgotten, particularly in France.
LAGEPLAN DES SCHUTZHAFTLAGERS AUSCHWITZ OS / general drawing of the Auschwitz protective detention camp. Upper Silesia. Scale 1:1000, Drawing 3230 of 23/11/1943 (PMO neg. No. 6192).
The document supplied is at the very limit of legibility, for the PMO does not have the original which is said to be in Moscow in the "October Revolution" Central State Archives. There is a good photograph of this drawing in the first bulletin of the Central Commission for the investigation of Hitlerite crimes in Poland, dated 1946, volume 1, page 64, photo No. 5 of the Polish version.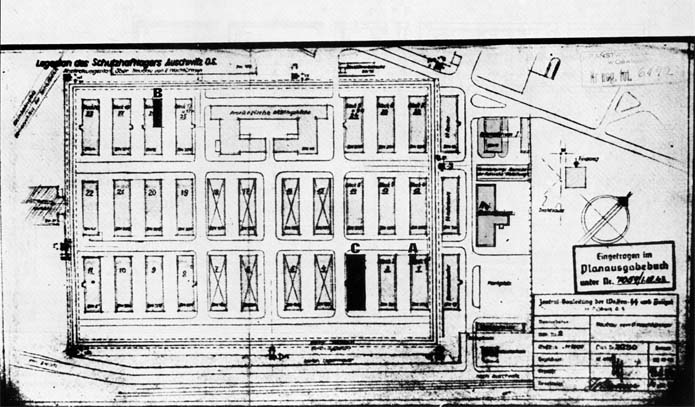 Translations of the more legible inscriptions (top to bottom):
Eingetragen im PIannausgabebuch unter Nr 7059/1.12.43 / entered in the catalogue of drawings under No. 7059 on 1/ 12/43
Absteckungsplan über Neubau von 8 Wachtürmen / location plan for the construction of 8 new watchtowers
Steinbahngleis / quarry railway
Gleisanschluß zur Reichsbahn / private rail siding connected to the State railway
Blockführerbaracke / Block chiefs
Provisorische Häftlingsküche / temporary prisoners' kitchen
SS Revier / SS hospital (BW 14)
Krematorium I / Krematorium I (BW 11)
Eingang / entrance
Vernehntungs-Baracke der Politische Abteilung / interrogation hut of the Political Section
Theatergebäude / Theatre building
SS Unterkunft / SS accommodation
Proj. Krematorium / planned Krematorium in (BW 47a)
Drahtzaune / wire fence
Kommanandatur / camp headquarters
Parkplatz / vehicle park
Wachbaracke / guard barracks
Lagermauer / camp wall
nach Bielitz / to Bielitz
nach Auschwitz / to Auschwitz