page 20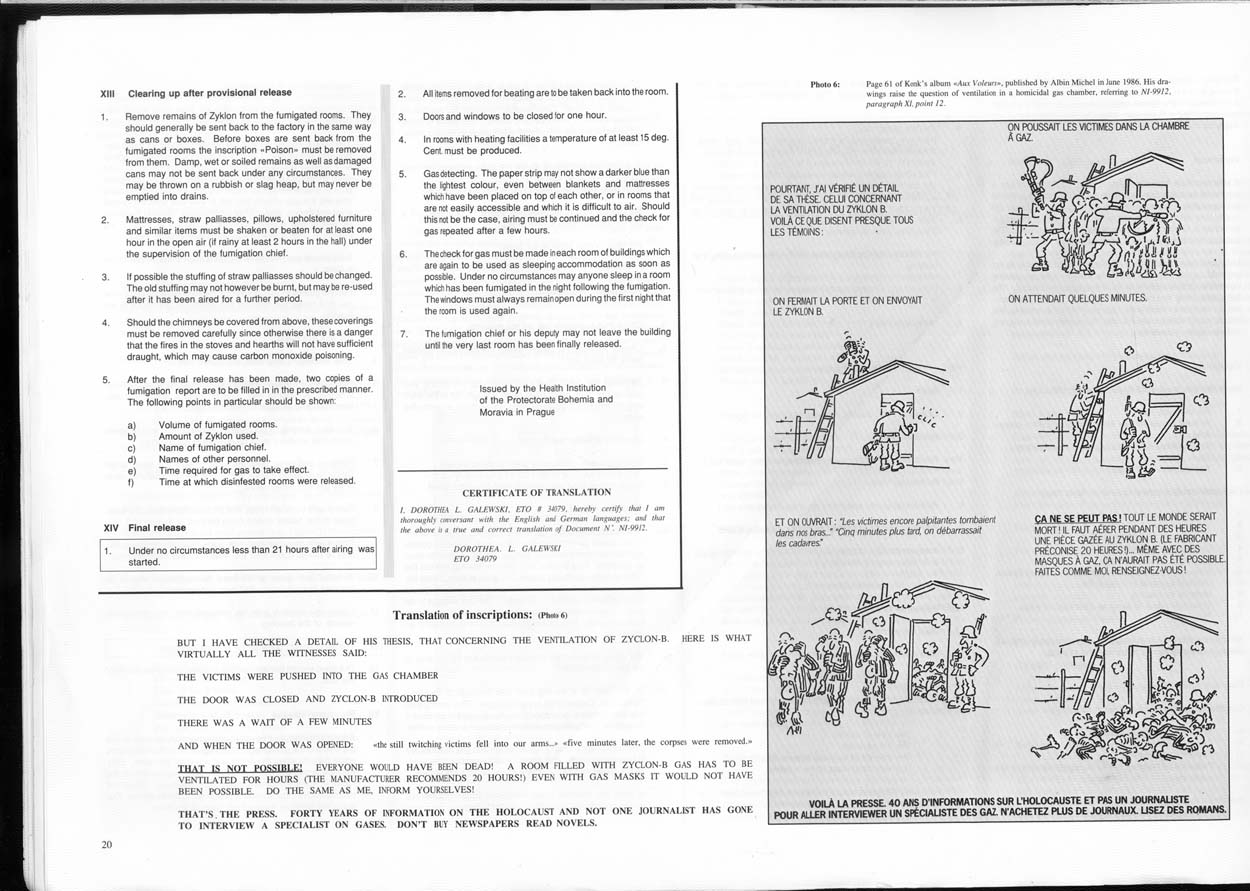 XIII
Clearing up after provisional release
1.
Remove remains of Zyklon from the fumigated rooms. They should generally be sent back to the factory in the same way as cans or boxes. Before boxes are sent back from the fumigated rooms the inscription "Poison" must be removed from them. Damp, wet or soiled remains as well as damaged cans may not be sent back under any circumstances. They may be thrown on a rubbish or slag heap, but may never be emptied into drains.
2.
Mattresses, straw palliasses, pillows, upholstered furniture and similar items must be shaken or beaten for at least one hour in the open air (if rainy at least 2 hours in the hall) under the supervision of the fumigation chief.
3.
If possible the stuffing of straw palliasses should be changed. The old stuffing may not however be burnt, but may be re-used after it has been aired for a further period.
4.
Should the chimneys be covered from above, these coverings must be removed carefully since otherwise there is a danger that the fires in the stoves and hearths will not have sufficient draught, which may cause carbon monoxide poisoning.
5.
After the final release has been made, two copies of a fumigation report are to be filled in in the prescribed manner. The following points in particular should be shown:
a)
Volume of fumigated rooms.
b)
Amount of Zyklon used.
c)
Name of fumigation chief.
d)
Names of other personnel.
e)
Time required for gas to take effect.
f)
Time at which disinfested rooms were released
XIV
Final release
1.
Under no circumstances less than 21 hours after airing was started.
2.
All items removed for beating are to be taken back into the room.
3.
Doors and windows to be closed for one hour.
4.
In rooms with heating facilities a temperature of at least 15 deg. Cent. must be produced.
5.
Gas detecting. The paper strip may not show a darker blue than the lightest color, even between blankets and mattresses which have been placed on top of each other, or in rooms that are not easily accessible and which it is difficult to air. Should this not be the case, airing must be continued and the check for gas repeated after a few hours.
6.
The check for gas must be made in each room of buildings which are again to be used as sleeping accommodation as soon as possible. Under no circumstances may anyone sleep in a room which has been fumigated in the night following the fumigation. The windows must always remain open during the first night that the room is used again.
7.
The fumigation chief or his deputy may not leave the building until the very last room has been finally released.
Issued by the Health Institution
of the Protectorate Bohemia
and Moravia in Prague
CERTIFICATE OF TRANSLATION
I, DOROTHEA L. GALEWSKI, ETO # 34079, hereby Certify that I am thoroughly conversant with the English and German languages; and that the above is a true and correct translation of Document No. N1-9912.
DOROTHEA L. GALEWSKI
ETO 34079
Photo 6: Page 61 of Konk's album "Aux Voleurs" published by Albin Michel in June 1986.
His drawings raise the question of ventilation in a homicidal gas chamber,
referring to NI-9912, paragraph XI. point 12.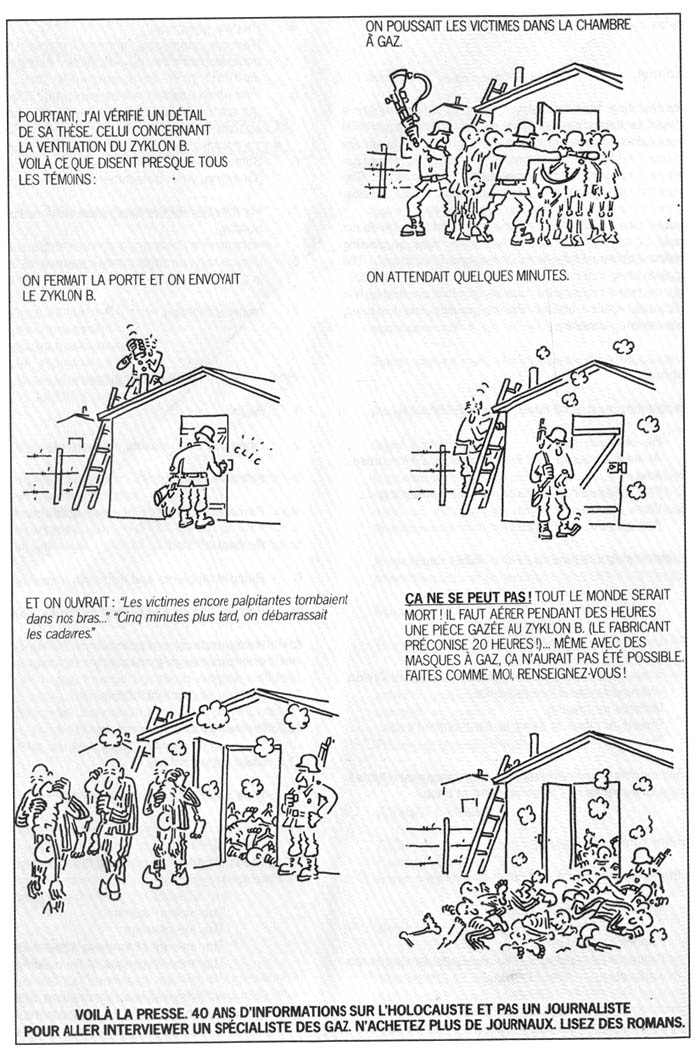 Translation of inscriptions: (Photo 6)
BUT I HAVE CHECKED A DETAIL OF HIS THESIS, THAT CONCERNING THE VENTILATION OF ZYKLON-B. HERE IS WHAT VIRTUALLY ALL THE WITNESSES SAID:

THE VICTIMS WERE PUSHED INTO THE GAS CHAMBER

THE DOOR WAS CLOSED AND ZYKLON-B INTRODUCED

THERE WAS A WAIT OF A FEW MINUTES

AND WHEN THE DOOR WAS OPENED: "the still twitching victims fell into our arms…"
"five minutes later, the corpses were removed"

THAT IS NOT POSSIBLE! EVERYONE, WOULD HAVE BEEN DEAD! A ROOM FILLED WITH ZYKLON-B GAS HAS TO BE VENTILATED FOR HOURS (THE MANUFACTURER RECOMMENDS 20 HOURS!) EVEN WITH GAS MASKS IT WOULD NOT HAVE BEEN POSSIBLE. DO THE SAME AS ME, INFORM YOURSELVES!

THAT's THE PRESS. FORTY YEARS OF INFORMATION ON THE HOLOCAUST AND NOT ONE JOURNALIST HAS GONE TO INTERVIEW A SPECIALIST ON GASES, DOn't BUY NEWSPAPERS READ NOVELS.