Volume I
Nurnberg Military Tribunals Indictments
Volume I: The Medical Case
Translation of document NO-365 (Prosecution exhibit 507)
Unsigned draft letter from Dr. Wetzel to Rosenberg, 25 October 1941, dealing with Brack's collaboration in the construction of gas chambers for the extermination of jews
"Draft" (pencilled notation)
The Reich Ministry
for the Occupied Eastern Territories
Berlin, October 25, 1941

Expert AGR Dr. Wetzel
Secret!
Re: Solution of the Jewish Question
1. To the Reich Commissar for the East
Re: Your report of October 4, 1941 in respect to the Solution of the Jewish Question.
Referring to my letter of 18 October 1941, you are informed that Oberdienstleiter Brack of the Chancellery of the Fuehrer has declared himself ready to collaborate in the manufacture of the necessary shelters, as well as the gassing apparatus. At the present time the apparatus in question are not on hand in the Reich in sufficient number; they will first have to be manufactured. Since in Brack's opinion the manufacture of the apparatus in the Reich will cause more difficulty than if manufactured on the spot, Brack deems it most expedient to send his people direct to Riga, especially his chemist Dr. Kallmeyer, who will have everything further done there. Oberdienstleiter Brack points out that the process in question is not without danger, so that special protective measures are necessary. Under these circumstances I beg you to turn to Oberdienstleiter Brack, in the Chancellery of the Fuehrer, through your Higher SS and Police Leader and to request the dispatch of the chemist Dr. Kallmeyer as well as of further aides. I draw attention to the fact that Sturmbannfuehrer Eichmann, the referent for Jewish questions in the RSHA, is in agreement with this process. On information from Sturmbannfuehrer Eichmann, camps for Jews are to be set up in Riga and Minsk to which Jews from the old Reich territory may possibly be sent. At the present time, Jews being deported from the old Reich are to be sent to Litzmannstadt [Lodz], but also to other camps, to be later used as labor (Arbeitseinsatz) the East so far as they are able to work.
As affairs now stand, there are no objections against doing away with those Jews who are unable to work with the Brack remedy. In this way occurrences would no longer be possible such as those which, according to a report presently before me, took place at the shooting of Jews in Vilna [Vilnyus] and which, considering that the shootings were public, were hardly excusable. Those able to work, on the other hand, will be transported to the East for labor service. It is self-understood that among the Jews capable of work, men and women are to be kept separate.
I beg you to advise me regarding your further steps.
"N. d. H. M."
[Lightly penciled notation, meaning copy for the Minister.]
"Wet 25/10" [in ink]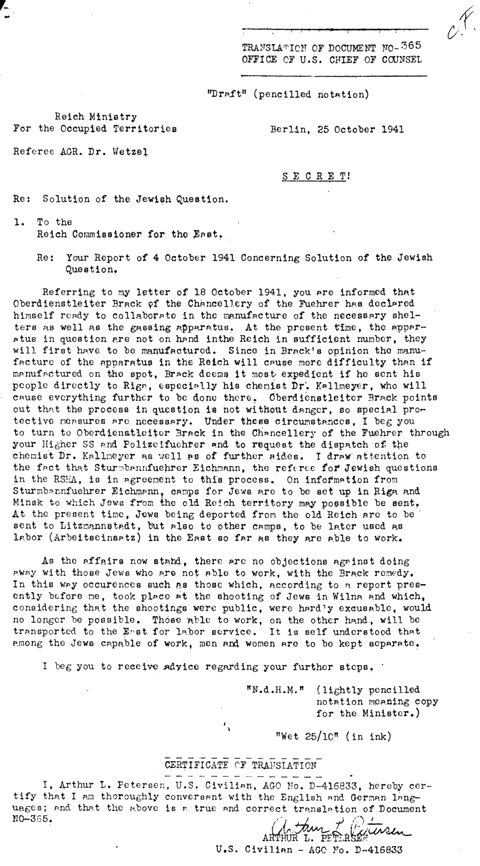 ---
Transcription:
Entwurf
Der Reichsminister
für die besetzten Ostgebiete
Berlin, den 25. Oktober 1941.
Sachbearbeiter AGR Dr. Wetzel
Geheim!
Betr.: Lösung der Judenfrage.
1. An den Reichskommissar für den Ostland
Betr.: Ihren Bericht vom 4.10.1941 bezüglich Lösung der Judenfrage
Unter Bezugnahme auf mein Schreiben vom 18.Okt. 1941 teile ich Ihnen mit, daß sich Oberdienstleiter Brack von der Kanzlei des Führers bereit erklärt hat, bei der Herstellung der erforderlichen Unterkünfte sowie der Vergasungsapparate mitzuwirken. Zur Zeit sind die in Betracht kommenden Apparate in genügender Anzahl nicht vorhanden, sie müssen erst hergestellt werden. Da nach Aufassung Bracks die Herstellung der Apparate im Reich viel größere Schwierigkeiten bereitet als am Ort und Stelle, hält es Brack für am zweckmäßigsten, wenn er umgehend seine Leute, insbesondere sein Chemiker Dr. Kallmayer nach Riga sendet, der dort alles weitere veranlassen wird. Oberdienstleiter Brack weist darauf hin, daß das in Betracht kommende Verfahren nicht ungefährlich ist, so daß insbesondere Schutzmaßnahmen erforderlich seien. Unter diesen Umständen bitte ich Sie, sich über Ihren Höheren SS- und Polizeiführer an Oberdienstleiter Brack in der Kanzlei des Führers zu wenden und um die Entsendung des Chemikers Kallmeyer sowie weitere Hilfskräfte zu bitten. Ich darf darauf hinweisen, daß Sturmbannführer Eichmann, der Sachbearbeiter für Judenfragen im RSHA durchaus mit diesem Verfahren einverstanden ist. Nach Mitteilung von Sturmbannführer Eichmann sollen in Riga und in Minsk Lager für Juden geschaffen werden, in die evtl. auch Juden aus dem Altreichgebeit kommen. Es werden zur Zeit aus dem Altreich Juden evakuiert, die nach Litzmannstadt, aber auch nach anderen Lagern kommen sollen, um dann später im Osten, soweit arbeitsfähig, in Arbeiteinsatz zu kommen.
Nach Sachlage bestehen keine Bedanken, wenn diejenigen Juden, die nicht arbeitsfähig sind, mit den Brackschen Hilfsmitteln beseitigt werden. Auf diese Weise dürften dann auch die Vorgänge, wie sie sich bei den Erschießungen der Juden in Wilna nach einem mir vorliegenden Bericht ergeben haben, und die auch im Hinblick darauf, daß die Erschießungen öffentlich vorgenommen wurden, kaum gebilligt werden können, nicht mehr möglich sein. Die Arbeitsfähigen dagegen werden zum Arbeitseinsatz nach Osten abtransportiert. Daß bei den arbeitsfähigen Juden Männer und Frauen getrennt zu halten sind, dürfte selbstverständlich sein.
Über Ihre weiteren maßnahmen erbitte ich Bericht.
---
Facsimile